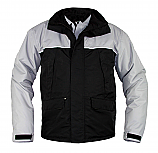 Ride-Tek announces an all-new 2014 snowmobile clothing lineup rich with innovation that matches the manufacturer's launch of the 2014 snowmobiles, but at a price that dealers can sell to any customer with confidence. Ride-Tek gear gives snowmobilers an affordable yet advanced clothing system that empowers them to immerse themselves in their favorite track-driven escape with no worries about torn clothing, excessive dampness, uncomfortable temperatures, or other downers. Ride-Tek's premium Shredder line has an outer shell made with Taslan Shield Technology. Ride-Tek's Taslan Shield is a 21st-Century polyamide innovation formulated for maximum comfort that still retains the waterproof, breathable, tear-resistant features needed in rugged winter adventure wear. Designed with decades of experience in the worst winter conditions, Ride-Tek offers the most affordable, wearable and durable clothing styles on the market today! All Ride-Tek jackets can be purchased with one of two zip-out liner choices to further optimize clothing performance, with high-quality gloves and bibs to match.
Company CEO Michael Killian views Ride-Tek as the best 2014 snowmobile clothing option for dealers in the fickle snowmobile market: "I am extremely pleased to offer powersports dealers a winter clothing line that carries very little risk and has great upside potential. We've all seen that high-priced clothing lines are a hard sell in a winter with poor snow and can become outdated when design trends change, but low-priced clothing lines don't carry the brand panache or features that new sled buyers want. Ride-Tek is the first snowmobile clothing option that can satisfy new sled buyers as well as today's snowmobilers who keep their old iron in shape for a precious handful of rides per year. Our cutting-edge Taslan Shield Technology and melded Reissa liners are unbelievably comfortable and perform as well as higher-priced brands in real-world conditions. Just as important, the classic styling themes we've chosen will fit with sleds made in the past, as well as those being built today."
The Ride-Tek Shredder is the ultimate solution for extreme back country and deep woods powder.
Shell utilizes 100% windproof, waterproof, and breathable Taslan Shield Technology that is melded to Ride-Tek's climate-balancing Reissa liner
Taslan Shield Technology blocks stains and retains new appearance over time. Ride-Tek gear will look good in the lodge or on the trail for years to come!
Security Stitched for added seam and pull-point strength
Adjustable waist and collar for maximum comfort
Fully ventilated in key comfort areas
Zippered, waterproof pockets with magnetized closures including 2 hand pockets, 2 chest pockets, cell phone and breast pocket in liner and in coat
3M ScotchliteTM reflective beads on front, arms and back
Adjustable waist and adjustable, zippered cuffs
Classic Styling
100% magnetically-attached, windproof zipper fenders
The Ride-Tek Ditchbanger offers classic style and all-day protection and comfort for snowmobilers.
95/5 Poly/Spandex shell for a soft yet strong comfortable feel with limited stretch-ability that is melded to Ride-Tek's climate-balancing Reissa liner
Fully ventilated allowing regulation for comfort in vital areas
Climate-Balancing, melded liner will not bunch or void
Heat-treated, water-resistant zippers throughout
Zipper-close cuffs
Security Stitched for added seam and pull point strength
3M ScotchliteTM reflective bead for safety
Adjustable neckline and waistline for added comfort
Heat treated zippers
Zip in/out liners
The Ride-Tek Cornice for snowmobilers who want durability, comfort and style at a great price
330 Denier canvas material shell for increased durability and less stiffness
Water-proof, wind-proof, and moisture wicking
Ride-Tek Reissa liner melded to the interior of the canvas
Fully ventilated armpits and back allowing regulation for comfort in vital areas
Heat treated water resistant zippers throughout
Security stitched for added seam and pull point strength
3M ScotchliteTM reflective bead for safety
Adjustable hood, neckline and waistline for added comfort
Magnetized pocket flaps ensures secure close
Zipper close cuffs with hand gators to ensure seal around glove
Removable snow skirt eliminates snow blow back
Zippered, removable hood
The Ride-Tek Epic for free riders, free skiers and snowboarders who wring every last minute of action out of winter
90/10 Poly/Spandex blend shell for more stretch while maintaining strength
Water-proof, wind-proof, and moisture wicking
Ride-Tek Reissa melded-in liner
Fully ventilated under arms
Zippered, removable hood
Heat-treated water-resistant zippers throughout
Security stitched for added seam and pull point strength
3M ScotchliteTM reflective bead for safety
Adjustable hood, neckline and waistline for added comfort
Magnetized pocket flaps ensures secure close
Zipper close cuffs with hand gators to ensure seal around glove
For distributor, dealer and customer orders or to learn more, visit the Ride-Tek website at www.ridetekgear.com or call (303) 522-5682
Image courtesy G-Force Consulting