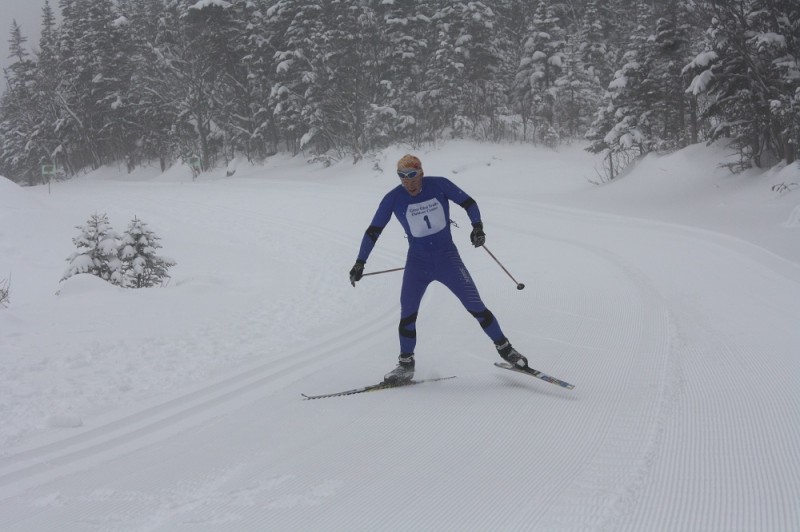 For the fifth straight time, the same skier won the race up the auto road on the Northeast's highest peak while snowshoers competed for the first time.
Justin Freeman, a 2006 Olympian turned math and physics teacher, handily skate skied to victory in Sunday's Ski to the Clouds presented by Maxiglide, a 10K competition starting on the Great Glen Trails network at the base of New Hampshire's Mount Washington and ending midway on the Mount Washington Auto Road.
Freeman, 36, a New Hampton School educator, completed the course that included more than 2,200 vertical feet of climbing over the six kilometers on the road in 45:01, about 90 seconds ahead of the second place finisher in a field of more than 40 skiers and snowshoers.
"I've been lucky to have some good days here," said Freeman. "During the past couple of years I've felt there have been some people who have been pushing me at the bottom. I've slowed down. I'm not out there racing the clock. I look back more than I care to admit."
Racers enjoyed a relatively balmy day on the mountain with virtually no wind and occasional snow showers with cloud and fog. Last year's race was was cancelled due to lack of snow. It's been held since 2008.
The finish line was still in the the trees, shielded from the extreme weather above tree-line. The road is 7.6 miles long with an average grade of 12 percent.
Though his work at the boarding school keeps him busy, there is some flexibility for Freeman to train and ski in winter. He says he's able to get out a couple of afternoons a week to train. During school breaks, he increases his hours on snow.
"I haven't felt fast racing most days this year but today was maybe an exception," he said.
Freeman has competed on the mountain in days with bitter cold and high winds, which forced organizers to move the finish line. One year it was nearly fifty degrees.
"This is just great, right around 32 degrees. The snow was fairly fast, a little soft. I think because there have been so many storms it's been hard to get the trail packed down. The groomers did a great job though. Definitely harder to climb in the soft snow."
For Freeman, the competition is a good spot on his calendar.
"The race comes at a time when I am getting in pretty good ski shape and is up against other events that bring other people to other places," he said. "That's fine. I'm having fun with this."
The fastest snowshoer was a man who knows Mount Washington. Dave Dunham, 48, of Bradford, Massachusetts. is a trail runner and ultra runner with international experience. But he's also won the Mount Washington Road Race three times, placed second six times and third three times.
His time was 1:00:07.
"It's hard," he said. "I had some kind of idea coming in. It's so slow, but it hurts so much."
Dunham also competes in a couple of New England snowshoe series, and raced the day before.
"Snowshoeing doesn't beat you up because you are on a softer surface," he said about snowshoeing versus running. "You don't have to go as fast and you get that aerobic benefit. You end up coming out of winter really fit. Maybe not fast, but fit."
Second in 1:02:07 was another serious mountain runner, North Conway's Kevin Tilton. Also a high-level snowshoe athlete, Tilton's accomplishments include top finishes in the Mount Washington Road Race, an eighth in the 2009 Pikes Peak Ascent and being a U.S. mountain running team member.
"It was a little soft, but it was good," he said. "I'd rather run on this then run on ice. It slows you down a bit but benefits people that are used to grinding and working hard."
As for the transition to snow, it's easy for Tilton.
"It is just like trail running but you just have bigger shoes on your feet," he said. "That's the great thing about snowshoeing. You don't need technical expertise. You don't need to learn technique. You just put snowshoes on and start running on the trails you might run on during the summer."
Images by Marty Basch