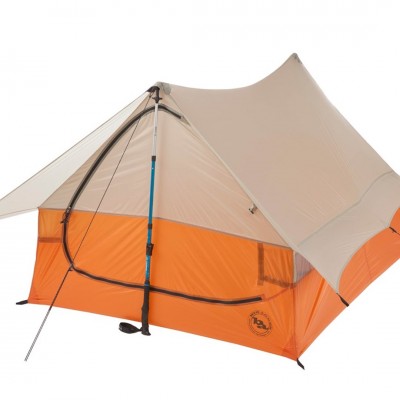 Big Agnes' Scout UL2 tent has been honored as a recipient of a 2013 Backpackermagazine Editors' Choice Award, one of the most prestigious awards in the outdoor industry, given annually to products in recognition of their outstanding innovation in design, materials and/or performance.
Backpacker Editor-in-Chief Dennis Lewon and his staff of editors and testers presented Big Agnes with the award at the annual Outdoor Retailer Winter Market in Salt Lake City, Utah on January 24.
The Backpacker Editors' Choice Awards, bestowed annually since 1993, honor the products that Backpacker editors have chosen as the best of the year based on months of trail testing by teams of highly experienced hikers and climbers. With no set categories for the awards and no set number of recipients, the products and the testing process drive the award categories.
Big Agnes' Scout UL2 tent was one of 15 innovative products that have been honored with a 2012 Backpacker Editors' Choice Award. The new Scout UL2 tent is a new-school A-framed tent with ample floor space for two people. The single-walled tent requires trekking poles for support and weighs only 1lbs 9oz. The Scout UL2 retails for $279.95 and will be available this spring.
"BACKPACKER gear reviews set the benchmark by which all others are measured," said Editor-in-Chief Dennis Lewon. "That's because no other magazine or website conducts field-testing as rigorously or impartially as the crew led by Gear Editor Kristin Hostetter. Our core testers each have years of backcountry experience and expertise in multiple pursuits, from climbing to paddling to skiing. Under Kristin's leadership, they put new products through punishing real-world abuse in the toughest terrain and worst weather. She also oversees a transparent process that has earned an unrivaled level of trust from readers, retailers, and manufacturers. The result? Best-in-class reviews that lead consumers to best-in-class gear."
"Big Agnes is honored to be recognized by Backpacker for our Scout UL2 tent. To be surrounded by such great competition and come out on top with the 2013 Editors' Choice is something that makes everyone at Big Agnes proud," says Bill Gamber, Big Agnes co-founder and president.
The Backpacker Editors' Choice Awards are the gold standard against which all outdoor products are measured, and are a seal of approval that can help put an outdoor company or product on the proverbial map. Each year at the Outdoor Retailer show, retail buyers use the awards announcements as a must-buy shopping list, knowing that their customers will be asking for these products in the spring.
Image courtesy Backbone Media