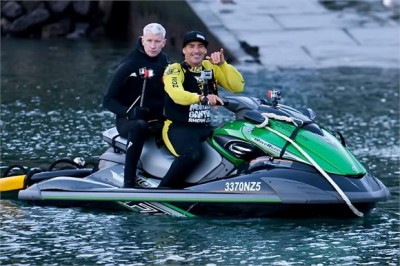 Body Glove team rider Garrett McNamara will be featured on the next episode of 60 Minutes Sports with Anderson Cooper, which will premiere this Wed. March 6, at 9 p.m. ET/PT on Showtime.
Cooper takes viewers inside the excitement, fear, pain and triumph of big wave surfing as the sport becomes more and more popular. Cooper profiles big wave surfer, Garrett McNamara, who currently holds the big-wave world record at 78 feet, and also joins him at his home in Oahu, Hawaii. They then venture nearly 8,000 miles to the ancient fishing village of Nazare, Portugal, where McNamara broke the world record in 2011 and just recently rode a wave said to rival that record. The show will give viewers the chance to see both waves up-close as they have never seen them before.
For all the heart stopping action, make sure to catch Garrett McNamara's spotlight on 60 Minutes Sports as well as live on the CBS Morning Show, which will air the next day, Thursday, March 7.
Image courtesy Body Glove