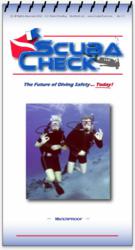 ScubaCheck announces a breakthrough in scuba diving safety by improving divers immediate access to both critical safety information as well as the most comprehensive diver checklist available.
ScubaCheck is the first multi-page, waterproof, pocket checklist. It is designed to give safe and logical information to all levels of divers. Details and responses provide volumes of information without the bulk of carrying stacks of books and manuals.
Scuba equipment manufacturers, diving operators, hosting cities, and travel destinations, can have their own custom book produced with their own cover as well as inside back pages available for revenue generation from advertising sales. Have advertisers on your back pages to totally cover the expense of your entire book run! Great for fundraising!
Image courtesy ScubaCheck