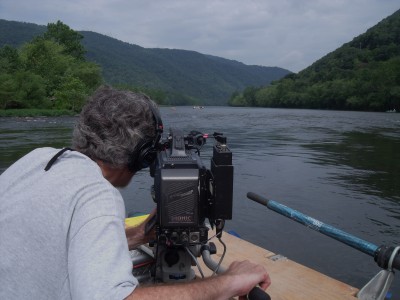 Three Rivers: The Bluestone, Gauley and New," will premier on WVPBS Sunday, March 3 at 8 p.m. and again at 11 p.m.
The 90-minute documentary is produced by West Virginia Public Broadcasting, with assistance from the National Park Service, the U.S. Army Corps of Engineers, the West Virginia Division of Natural Resources and the Department of Agriculture, organizations charged with protecting portions of the New, Bluestone and Gauley and the lands through which they flow. The producer is Russ Barbour.
"Three Rivers" examines the historical and ongoing relationship between man and nature in the region, and serves as both a travelogue and an examination of efforts to improve the environment, while promoting economic growth through tourism.
Jim Phillips, Naturalist at Pipestem State Park, says the three-river region offers the essentials for both man and nature to flourish, adding that, "If you're gonna have wildlife and a good variety of wildlife, you need to provide them with the basics and the basics would be food, water, shelter, a place to live and a place to raise their families." Phillips, Ed Wooton, also from Pipestem, and Sam Cowell, superintendent at Carnifex Ferry Battlefield State Park, contributed to the documentary.
The production reveals the area's geology and geography and what makes the New, Gauley and Bluestone rivers unique when it comes to boating and enjoying life along these streams.
An examination of the events behind the establishment of both New River National Scenic River in North Carolina and New River Gorge National River in southern West Virginia, as well as Bluestone National Scenic River and Gauley River National Recreation Area is part of the program.
There is a focus on the role of flood control in boosting the region's economy of the Gauley River, especially during Gauley Season. The production also examines the impact of industry, along the Bluestone, Gauley and New and efforts to improve the environment and quality of life, along these waterways.
Image courtesy West Virginia Division of Natural Resources