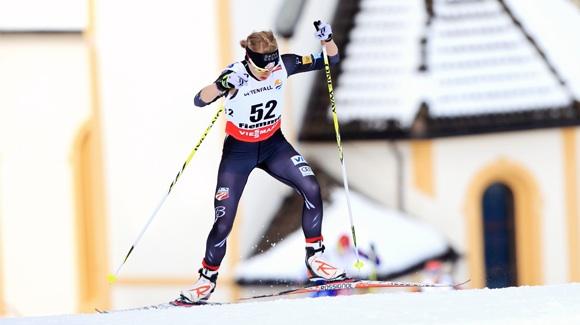 A week before Liz Stephen took to the hills of Val Di Fiemme, Italy she was on the phone in a hotel room with a stateside writer asking about her expectations for the impending FIS World Nordic Ski Championships.
She's been having a banner season.
When in late November the U.S. scored its first World Cup cross-country relay podium by a women's 4x5k team, Stephen, a  Burke Mountain Academy grad, skied the first freestyle leg of that third place finish.
In 2013, she's had three 15th place finishes and one eighth in the World Cup.
For the Worlds, she would be concentrating on a handful of races.
"I'd like to get a top five in one of those races," she said. "I've never had a top five in individual World Cup."
On Tuesday, Stephen, 26, pulled through by taking fifth place in the women's 10k individual skate giving her a personal best while also providing an historic best for the women's team in that event.
Plus, her teammates all finished in the top 30 in a race won by Norway's Therese Johaug.
"I would have been really psyched with a top 10 and to actually have met the top five goal–which was definitely the far-reached one–I'm pretty ecstatic," she said following the race. "I couldn't have done it without the team behind me. The first person that gave me a hug was [teammate] Holly [Brooks] in the finish zone. The entire team was there afterwards. I'm so lucky to be a part of something so big right now."
The strong showing provided more steam to an impressive season for the women's cross-country ski team.
Stephen was coming off a top 15 performance in Davos, Switzerland.
She tends to do well on the climbs.
"I'd never skied (the course) as a skate course before," she said. "We always do it as a classic on the Tour de Ski, so I was psyched to be able to skate up those hills and just kept channeling the Tour de Ski energy and vibes. Heck, it's World Championships, there's pretty good vibes here with Kikkan (Randall) and Jessie (Diggins) getting the win the other day. The mood of the team is outstanding right now–lots of energy kicking around."
Stephen stayed in the race at the splits. Her endurance propelled her forward to fifth in the last few kilometers.
"I felt the body kind of coming this week and new feelings that I haven't really felt all season," she said. "I woke up today thinking it was going to be a good day and I'm glad it was."
For Randall, it was a tough day but she was happy for Stephen's finish.
"It was still however a spectacular day as my teammate Liz Stephen was fifth in the world, just eight seconds off the podium," Randall said. "I've been training alongside Liz for a few years now and have witnessed how hard she works. She has been reaching new levels this season, including skiing the second fastest time up the Alpe Cermis on the Tour's final day, and she is so deserving of this amazing result."
Randall said Stephen's finish is the best ever U.S. women's distance finish in a major championship. The whole team came out to the awards to cheer her on.
Stephen is a former alpine racer who made the switch to cross-country in high school.
"I have 10 years of training and preparation under my belt," she said during that phone conversation more than a week be for the race. "I've been doing the right things. I've gotten lucky and I haven't had many injuries. With endurance sports, especially for distance, you log quite a few hours before getting near the top and each year is better for me."
Image courtesy U.S. Ski Team