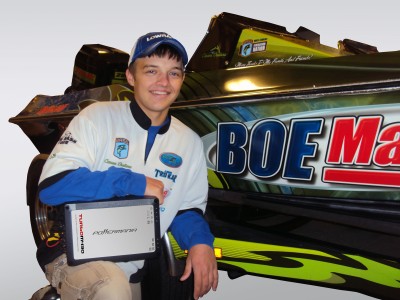 Battery charger manufacturer Powermania designs many of its products with fishermen in mind. Now the company is taking its relationship with fishing a step further by sponsoring amateur sportfisherman Carson Orellana.
At 17 years old, Orellana recently competed in the 2012 Bassmaster Southern Opens. In 2012, he also took second place in the Bass Federation Junior state championship, third place in the Federation Nation Southern Divisional and third place in the B.A.S.S. Federation Nation Junior State Championship.
"I made a smart decision to use a Powermania battery charging system," said Orellana. "Having the satisfaction in knowing that my batteries have been fully charged between tournament days gives me more confidence before heading out on the water."
Powermania's Turbo marine battery chargers are the safest, most user-friendly, and most power-efficient waterproof onboard chargers on the market. The chargers in this series are ideal for recharging and maintaining 12V DC batteries in marine applications and other harsh environments.
"We're proud to sponsor Carson and are thrilled to know that our products help him out on the water," said Randy Wang, Powermania sales manager. "At only 17 he's proven to be a tough competitor and we're confident he'll continue to develop his skills and grow to be a world-class fisherman."
Image courtesy Martin Flory Group