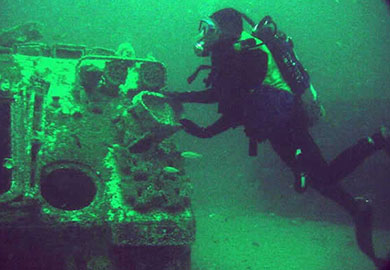 South Carolina's artificial reefs are a popular marine destination for anglers and finding those locations is now easier than ever. The S.C. Department of Natural Resources (DNR) is now offering GPS downloadable coordinates for a variety of devices to get you on target.
Please reference the manufacturer's manual for information on how to download and store data when importing to your device.
While coastal live-bottom reefs are known for their productivity, and are therefore popular destinations for many recreational anglers and divers, they comprise only a small percentage of the ocean bottom accessible for sport fishing or diving. Off South Carolina, the majority of the continental shelf is covered with sand several feet deep, while a small percent of the bottom has the appropriate geological makeup to allow for the formation of a reef community. To enhance recreational fishing and sport diving opportunities in coastal waters, the creation of additional man-made, or artificial reefs increases the amount of productive hard-bottom habitat available overall. This is accomplished by placing suitable long-lived, stable and environmentally safe materials (usually steel or concrete) on a selected area of ocean bottom.
Peak fishing activity on the artificial reefs occurs from May through November, but even on winter days when weather permits, excellent fishing opportunities still exist.
Species such as Spanish and king mackerel, barracuda, spadefish and shark are commonly found on near-shore reefs in late spring and the early summer months. Farther offshore, dolphin, tuna, and even sailfish have been landed on or close to reef structures. Black sea bass, snapper, grouper, porgy and flounder are also commonly landed during summer months while bottom fishing.
Angling activities are renewed for popular species such as cobia, king mackerel, red drum and spotted sea trout when cooler water temperatures in the fall and winter lead to the departure of some summertime resident reef fish.
Image courtesy South Carolina Department of Natural Resources