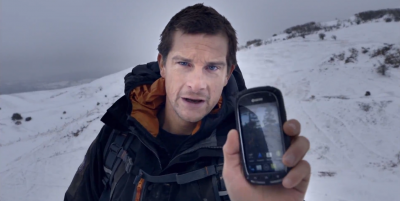 Bear Grylls faces a difficult proposition when it comes to choosing phones. It has to be rugged enough to survive tackling wild pigs, the windblown peaks of the Himalayas, and scorching deserts dry enough to split bone. Most importantly, it must be able to play Fruit Ninja.
What Grylls needs is a phone as durable as he is, and one that will most likely be dropped many, many times. That's why the expert survivalist and television host recently endorsed the Kyocera Torque 4G LTE Android as his new tech toy.
The Torque is built to mil spec standards that can "withstand dust, shock, vibration, solar radiation, humidity, blowing rain, low pressure, salt fog and extreme temperatures." Not to mention it is also built to handle drops almost as well as a baby with a  titanium bottom.
"The durability and sound quality of Torque are amazing for a 4G LTE smartphone," said Sprint Vice President of Product Development David Owens. "Whether you're on a construction site, an outdoor adventurer, or a mom that worries about their kids breaking their phone, Torque can hold up to those drops, spills or dunks.
Behind the Torque's gruff exterior are all the bells and whistles that come expected on a Droid phone. It won't cost you an arm and a leg either, the Torque carries a $100 price tag after contract.
It's like your phone, but just more likely to survive being used as a grizzly chew toy.
Below is Bear Grylls' endorsement of the Torque:
httpv://youtu.be/qaclV4Mp3To
Image screenshot of video by kyoceramobilephones on youtube