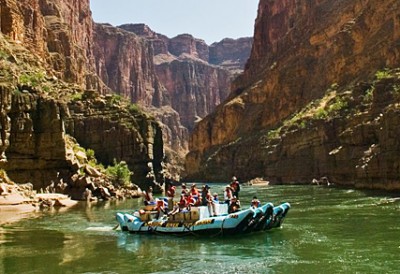 River rafting pioneer Western River Expeditions (http://www.westernriver.com/) reveals seven surprises for guests on multiple-day Grand Canyon rafting trips.
And what may come as the eighth surprise is the fact that with the exception of a few departures in 2013 trips are nearly at capacity and the company is taking reservations now for 2014 adventures. Limited space is still available in April, May and August for 2013.
"The Grand Canyon, one of Seven Wonders of the Natural World, continues to surprise even us, and we've been rafting between its walls for over 50 years," said  Brian Merrill, CEO of the single largest rafting outfitter in the Grand Canyon National Park in terms of numbers of guests hosted and numbers of days on the river.
The Grand Canyon is Western River Expeditions' signature trip conquering over 
60 major rapids during a 187-mile run in six or seven days. Per person rates for 2013 begin at $2,585. There's an option to do a shorter three or four day trip covering 100 river miles from $1,240 per person. Surprises begin in April, a time preferred by professional photographers for flowers, cooler temperatures and thunderous waterfalls. The season continues through mid-September.
Here are the seven surprises in store for guests on six and seven-day Grand Canyon Itinerary:
Spectacular side hikes: At continual stops throughout the canyon, guests stalk silence in narrow side canyons, cool off in dripping grottoes and fathom trailside a waterfall's roar – hidden places only seen from the river.
Delectable food: Guests ponder the perfection of meals prepared by river guides who are also accomplished campfire and Dutch oven chefs, working daily with fresh produce and prime cuts of meat and fish.
History: Interpretive guides pry curiosities revealing lore of cultural and natural history focused on Native American rock art and ruins as well as the geologic history of the Canyon.
Unplugging: The setting and pace of a rafting trip provide for the long overdue need to completely get away from it all, recharging one's batteries rather than those of your devices. (Guides are not fully unplugged and can access civilization via satellite phones in case of emergency.)
The night sky: Astonishing describes the vivid depth of the heavens viewed from within the depths of the canyon. Black walls rise then gape open to reveal a star-studded crack of sky, with a dusting of the Milky Way. No artificial light masks the sky so far from the nearest town or city.
The unique J-Rig raft: Western River Expedition's J-Rig Raft, the "Cadillac of the Colorado," is the only large-capacity raft on the Colorado River with forward-facing seats. Guests can choose up-front "gusto" seats or buckin' bronco seats on the row behind. Plus, unthinkable on most rafts, guests can even walk around!
It couldn't be easier: People often think of a remote wilderness adventure as logistically stressful or challenging. Yet the opposite is true.  On an all-inclusive Western River adventure, guests simply show up in Las Vegas or Marble Canyon, Arizona with a duffle bag of clothes.  After a short flight or bus ride to the river, Western River takes care of the rest.
Image courtesy Widness & Wiggins