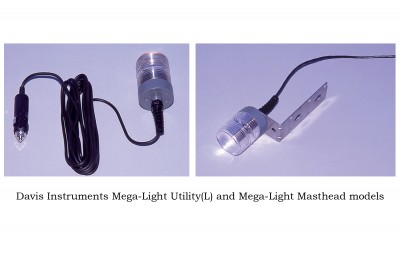 Whether on the water or on the road, boaters, campers and fishing enthusiasts enjoy increased safety and comfort with Mega-Light Utility and Mega-Light Masthead models. Davis Instruments now offers the same great products upgraded with brighter, long-lasting and efficient LED bulbs.
The Mega-Light Utility/LED is equipped with a 15′ heavy-duty cord and fused lighter plug. The cord features a UL-approved strain-relief design, ensuring long life and reliable service. An adjustable bracket makes the Mega-Light Utility easy to hang wherever it's needed.
The stationary Mega-Light Masthead/LED is pre-mounted to a stainless steel bracket, ready for installation with a 12″ lead wire. It's ideal for marking a boat on a mooring or at anchor. An extra pre-drilled mounting hole easily accommodates a Davis Windex 15 wind vane base to conserve masthead space. When used on an interior wall or bulkhead, the Mega-Light serves as a security light to brighten stairways or entryways.
When hung upside down, the clear, convex lens top creates a flood light for area lighting. An automatic sensor switches the lights on at dusk and off at dawn. Both models have a completely waterproof sealed lens and base and offer visibility up to 2 nautical miles.
For those who already own a Mega-Light and wish to upgrade, Davis Instruments offers a Replacement Bulb Kit. It includes both a new LED bulb and a spare incandescent bulb.
Always economical, the Davis Instruments Mega-Light Utility/LED retails for $49.99, while the Mega-Light Masthead/LED costs $52.99. The Replacement Bulb Kit is $6.99.
Image courtesy Martin Flory Group