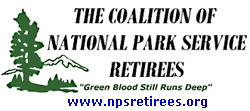 The Coalition of National Park Service Retirees (CNPSR) said today it supports in concept a plan announced by Yellowstone National Park that would allow winter visitors to continue using best-available-technology snowmobiles to access America's flagship national park where a majority of visitors now opt for access on multi-passenger snowcoaches.
However, CNPSR said Yellowstone's plan must be strengthened to assure that a vital goal frequently cited by Superintendent Dan Wenk will be achieved. Superintendent Wenk has said Yellowstone's air quality and natural soundscapes, degraded by snowmobiles in prior years, will continue to improve under his plan rather than backslide.
Yellowstone's proposal would not ban snowmobiles from the Park. Instead, it would require reduced levels of noise and carbon monoxide in models of snowmobiles allowed into the Park. After improving a decade ago, the environmental performance of snowmobiles approved for use in Yellowstone has since regressed. The Park's proposal would require snowmobiles to travel in a maximum of 50 groups or "transportation events" per day and at lower top speeds to reduce hazards to public safety and wildlife and disruption of Yellowstone's natural soundscape.
"We support these essential elements of Yellowstone's proposed plan," said CNPSR Chair Maureen Finnerty, former superintendent of Everglades National Park. "However, a portion of the plan contradicts the National Park Service's emphasis that for snowmobiles to remain in Yellowstone, they must protect the park's resources and values as effectively as snowcoaches. Overall, we believe this plan can serve Yellowstone well, but we urge a change where it does not stay true to its own goal and instead elevates the use of snowmobiles over Yellowstone's conservation."
In a study that accompanies Yellowstone's proposed plan, the National Park Service argues that a future group of 7 snowmobiles, each required to be less noisy and polluting than snowmobiles currently used in Yellowstone, would generate a combined impact to the Park's resources "comparable" to that of a single multi-passenger snowcoach; in short, that one type of "transportation event" would have similar effects to the other. However, data in the study reflect that groups of snowmobiles would in fact produce dramatically greater exhaust emissions than single snowcoaches—8 times more hydrocarbons, 13 times more nitrogen oxides, and more carbon monoxide if groups of snowmobiles grow beyond seven snowmobiles on some days, as the National Park Service has proposed to allow.
Meanwhile, in terms of limiting snowmobile noise, which significantly compromised visitors' experiences in past years, but less in recent winters as the number of snowmobiles in Yellowstone has been reduced, the study shows that noise levels would grow if snowmobile groups are allowed to increase from 7 to as many as 10 snowmobiles. Larger snowmobile groups would consequently be audible farther from park roads. The study contends that snowmobile groups would have equivalent sound levels to single snowcoaches, but this contention is based on an assumption that "Best-Available-Technology" snowcoaches would actually be louder than most of the snowcoaches operating today.
CNPSR member Denis Galvin, a former Deputy Director of the National Park Service said: "Yellowstone has built its proposed plan around an assurance that 'transportation events' of different types will have 'comparable impacts.' But the Park proposes to allow snowmobile groups to exceed its own measure of 'comparability,' generating disproportionate noise and exhaust and less ideal conditions for visitors seeking to experience and enjoy Yellowstone. This is contrary to what law and policy requires in our national parks. It invites further uncertainty into the controversy over snowmobile use in Yellowstone National Park that has already stretched 15 years. We hope the National Park Service will correct this portion of its plan so that it comports with the plan's many good components."
Logo courtesy The Coalition of National Park Service Retirees