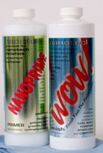 That's right! Helmar Distributors expanded its market internationally for Nanotech WOW! the original nano-polymer fusion boat polish. Initially, WOW! has been used by the U.S. Air Force, commercial industry, pilots and boaters for more than 20 years.
The manufacturer boasts that Wow! products are designed to beautify and seal any surface against soil, atmospheric pollutants and oxidation. Bio-fouling, oxidation, friction and UV degradation occurs within the first few nanometers of a surface. WOW! closes and seals the surface's finish, delivering the long term protection know for any surface, hard or soft.
Some say that although WOW! does not eliminate mussels, barnacles or marine growth completely — all of which considerably slows down a vessel's progress which means it uses much more fuel — the slick surface does make clean up a breeze.
Can be used on all metals, fiberglass, wood or fabric; painted and unfinished surfaces, glass and Plexiglas. WOW! is not a paint but clear, flexible, ordorless, water based eco-friendly penetrating protectant that can be sprayed or wiped on.
Image courtesy Helmar Distributors