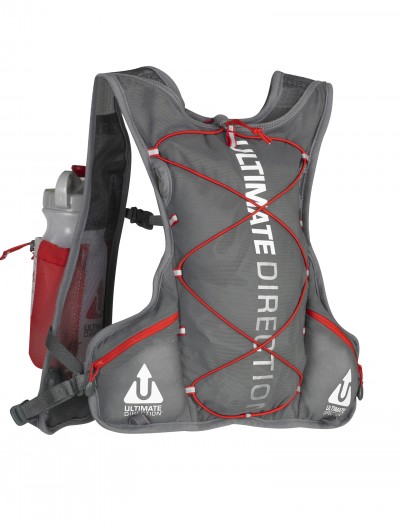 Ultimate Direction, creators of the innovative and highly popular Signature Series Hydration Vests, is proud to announce Trail Runner Magazine honored the AK Race Vest with 'Editor's Choice' recognition
Designed with help from minimalist running advocate Anton Krupicka, the AK Race Vest uses the latest high-tech materials including the ultralight and ultra-durable Cuben Fiber, a feature that impressed Trail Runner editors
"Perhaps the best feature of this innovative hydration unit designed by elite mountain ultrarunner Anton Krupicka is Cuben Fiber (CTF3), and ultra-light, tear-resistant fabric that doesn't stretch," said Trail Runner, adding "Despite a full pack weight, CTF3 holds its shape, seemingly dissipating weight and making the vest feel nearly empty."
Weighing in at a feathery 11.5-ounces (6-ounces without bottles), the AK Race Vest is the world's lightest hydration pack.  With all the features needed for any length run or race, the AK Race Vest offers twin front-mounted bottle holsters for quick refills and a 4.5-liter main compartment for gear or a reservoir, and several smaller pockets easily accessed on the go.
"When we brought Anton, Scott Jurek, and Peter Bakwin on-board to help design the next generation of hydration systems and all three wanted to see water bottles mounted up front, we knew we were on the verge of creating an extremely innovative product that addressed the needs of serious runners," said Buzz Burrell, Brand Manager for Ultimate Direction.  "When Trail Runner, a publication that's highly respected in the running community, gave us this recognition, it confirmed that we nailed it."
The AK Race Vest hit the market late in 2012 along with the Scott Jurek Ultra Vest and the Peter Bakwin Adventure Vest.  Since then, Ultimate Direction has set sales records with all three products.
Image courtesy American Rec