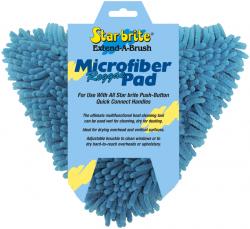 Star brite has reinvented how to dry a boat. Anyone who has ever used a mop to dry an overhead or large clear plastic enclosures or expanses of windows knows there has to be a better way. There is – the Star brite Reggae Pad. Simply connect it to a Star brite handle and you are ready to dry areas that were otherwise very challenging due to height or limited accessibility.
By combining the Reggae Mitt's super-absorbent, no-scratch microfiber strips with a triangular plastic base on an articulating attachment, the Reggae Pad can follow contours and be used overhead or at heights without the awkwardness of a mop. The once-tedious chore of drying large expanses of glass, vinyl or fiberglass overheads, decks or hulls is now about as simple as it can be.
The microfiber strips absorb an enormous amount of water; when they become saturated, the pad can be quickly removed from the base by loosening the drawstrings. Wring it out and replace it and you're ready to get back to drying. The pad can also be used without the plastic base for working in tight areas.
Just as is the case with the Reggae Mitt, Reggae Sponge and Reggae Mop, the Reggae Pad can be used for drying, or it can be used with soapy water to clean, or used dry for dusting applications.
The Reggae Pad in action:
httpv://www.youtube.com/watch?v=rwuO0BGmA3M&feature=share&list=UUjSDYdvW29uoBYTwb_WiDhg
Image and video courtesy Star Brite