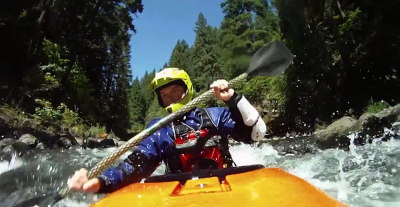 After a ski accident left Greg Mallory unable to walk in 1994, the athlete has been continuously pushing the boundaries both physically and mentally. A new short film by Ander Maser and presented by NRS Films called Walk On Water looks into Mallory's experiences off-slope and on-river.
Mallory discovered kayaking not long after his accident and has been at it ever since.
"I started to think about what life was gonna be like after not being able to walk, living life in a wheelchair," he said. "I wanted to change as little as possible. For me that meant some way to stay active outdoors."
That meant trading in his ski equipment for a wet suit. It was a long journey from when he first took the paddle in his hands to kayaking the famed Mangde Chu River in Bhutan's Himalayas. Mallory is now a world-renowned adventurer and seeks out new challenges wherever he can find them. In his spare time Mallory practices law, hand cycles, and participates in Nordic skiing events.
"I think anybody that has a life altering injury or disability; I think everybody is looking for something to be stoked about. For me it's been kayaking."
Below is the short film in its entirety:
Image screenshot of video by NRS Films on vimeo