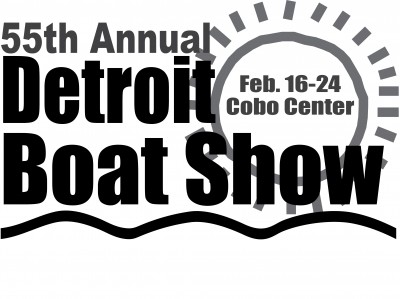 The original, biggest and best boat show in Michigan, the Detroit Boat Show premiers the latest boating products and accessories to more than 60,000 attendees expected to fill the bigger show at Cobo Center during its nine day run at Cobo Center, February 16-24.
"Boating is back, nationwide the industry saw a 10 percent increase in powerboat sales in 2012 and we're expecting another 10 percent increase in 2013," said Show Manager Nicki Polan, with statistics reported by the National Marine Manufacturers Association. In Michigan, boating is a $3.9 billion industry with nearly one million registered boats and four million active boaters
The 2013 Detroit Boat Show is back to two halls at Cobo Center and at 270,000 sq. ft. is 35% larger than 2012.  "As Michigan recovers our industry recovers and the number of boats on the floor, for sale, has grown along with the overall show foot print," said Nicki Polan, MBIA.  "Boat shows are the easiest way to comparison shop for the brand and style of boat that is best for your needs."  The show features boats from more than 60 different manufacturers including seven from Michigan and two new model introductions from Italy
Featured attractions include: appearances by Trigger Tommy and Trapper Joe from the hit television series Swamp People (Feb. 16&17); kids can meet SpongeBob SquarePants (Feb. 16&17); immerse yourself in history at the Battle of Lake Erie Bicentennial Pavilion offering a step back in time to the war of 1812; climb in the Waterwalkerz and rock and roll on water; get a sneak peek at the new Quadski concept boat that goes from land to water in 4 seconds; take a free boaters safety course and get free admission; street teams from different radio stations will provide games and entertainment; rendezvous weekend (Feb. 22-24); meet a mermaid; free giveaways & prizes; tiki bar and much more!
Throughout the week, Detroit Boat Show-goers and exhibitors will give back to the community with two charitable promotions. Tuesday, Feb. 19 – Save the Buoys, breast cancer awareness day, where ladies get in free and participating dealers will donate $100 per boat sold to the Barbara Ann Karmanos Cancer Institute. Wednesday, Feb. 20 is "A Boat Load of Food" dedicated to helping those in need. Attendees who donate 5 or more non-perishable food items to Gleaners Food Bank between 3pm to 6pm will receive free admission to the show.
The 55th annual Detroit Boat Show is February 16-24 at Cobo Center in Detroit.  Admission to the boat show is $12 for adults; children 12 and under are free with an adult, and seniors over 62 receive free admission on Monday. Discount tickets, other special admission days and discount hotel accommodations provided by Courtyard by Marriott Downtown Detroit are available at www.detroitboatshow.net.  HOURS: Saturdays, Monday and Friday: 11 a.m. – 9 p.m.; Sundays: 11 a.m. – 6 p.m.; and Tuesday, Wednesday & Thursday: 3 p.m. – 9 p.m.  Parking is available at Cobo Center and surrounding lots. The Detroit Boat Show is sponsored by Great Lakes Scuttlebutt, Official Magazine of the Detroit Boat Show.  FOR MORE INFORMATION visit www.detroitboatshow.net, or call 1.800.932.2628.
Logo courtesy Michigan Boating Industries Association