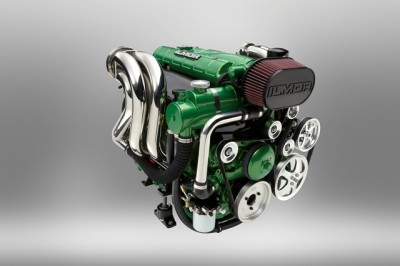 On its tenth anniversary in the marine industry, Ilmor High Performance Marine unveils its latest power plant, the MV8-570 high performance marine engine, at the 2013 Miami Boat Show. The new engine is featured in Ilmor's display inside the Miami Beach Convention Center (R99/101) as well as installed in the 2013 Formula Boats 353 FAS3Tech at Sea Isle Marina.
Nearly three decades of successful motorsport race engine design – including 17 Indianapolis 500 race wins and two Formula 1 World Championships – and ten years of high performance marine drivetrain production made Ilmor uniquely suited to develop and manufacture this ground-breaking new power plant. The naturally aspirated 570 horsepower engine is hand-built in Ilmor's race engine shop and is based around GM's Performance Parts modern LS architecture cylinder block. All of the internal components are Ilmor-designed and are manufactured using higher strength materials, such as forged steel and forged aluminum, for long-term durability. Ilmor also applied sophisticated engine technologies like variable valve timing for overall enhanced performance, providing increased lower end torque and high RPM horsepower. The result is a fuel-efficient, compact and lightweight engine, in a beautifully dressed package.
"Ten years ago we entered the marine world with the goal of changing the way boaters think about their engines," said Paul Ray, President of Ilmor Engineering. "The MV8-570 is the culmination of this goal after a decade of marine experience and two years of very intensive engine development. We wanted to merge the best of our two marine engine lines via our existing 7.4L engine – the new '454' of today's generation. We can now fill the need for a modern, compact, well-rounded performance engine for pleasure and high performance boaters alike."
The new Ilmor MV8-570 will be offered in a variety of configurations, including an entry-level version for the cost conscious buyer and an upgraded appearance package – 570X – which features polished sport-tube headers, billet pulleys and custom engine covers. Appearance accessories will also be available for after-market purchase and installation. Compatible with various drive systems for new installations or repowers, Ilmor will offer the MV8-570 in complete packages with drives produced by long-time partners Teague Custom Marine and IMCO Marine.
The MV8-570 engines will make their on-water debut in the Formula Boats 353 FAS3Tech located at Sea Isle Marina. Ilmor and Formula partnered together for the first production installation of the MV8-570 after several successful installations of Ilmor's existing high-performance MV10 and INDY drive systems in the 382 FAS3Tech and 400 Super Sport models.
"Formula is honored to partner with Ilmor Marine in launching their latest creation, the Ilmor 570, in the Formula 353 FAS³Tech.," said Scott Porter, President of Formula Boats. "The new Ilmor 570s are an exciting visual blend of bright red, black carbon fiber and gleaming stainless steel and deliver 570 H.P. at 6000 rpm from a 7.4 L Chevy racing block, made magic over by the Ilmor Team. Our partnership began when we installed their 725s and Indy drives in our 400 Super Sport, and that evolved to the 382 FAS³Tech. Ilmor Marine's association with Penske Racing delivers products and service levels you would expect from a world-class organization. While we installed the new Ilmor 570s in a 353 FAS³Tech, I believe it will be an awesome package in our 382 FAS³Tech also. Formula looks forward to our partnership in this effort to delivering an outstanding customer experience on the water."
ILMOR MV8-570 STANDARD FEATURES:
The MV8-570 is the most powerful emissions certified small-block architecture gasoline marine engine available today.
    570 HP (425 kW) at 6,000 RPM
    High performance cast iron block and cast aluminum heads
    Unique Ilmor-designed custom cast aluminum upper and lower intake manifolds, forged pistons, forged steel crankshaft and connecting rods
    Variable valve timing for overall enhanced performance
    Over temperature protection mode, knock detection with auto-protect and soft rev limiter
    Thermostatically controlled oil system
    Electronic throttle capability
    High-mount alternator, remote-mount oil filter with courtesy tray, custom electronics wiring harness, top mounted fuses, relays and circuit breakers for ease of service
    Conforms to EPA, CARB and EU emissions standards
To learn more about the MV8-570 engine or Ilmor's other marine engine offerings, visit http://www.ilmor.com.
Image courtesy Ilmor High Performance Marine