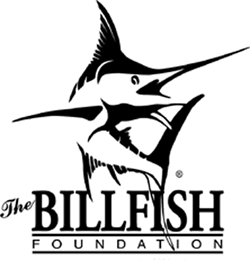 Be sure to put The Billfish Foundation on your "must see" list when visiting this year's Miami Boat Show. The TBF display will be in The Big Game Room at the Miami Beach Convention Center.  It's the perfect opportunity to join TBF or renew your membership.  In addition to our new 2013 members only t-shirt and other great benefits, our awesome sponsors, Costa and Pelagic Gear are offering great gear such as a hat or visor to those who join or renew during the boat show.
TBF is proud to announce Steve T. Goione as our 2013 artist of the year.  This year's membership print is based on Steve's beautiful illustration "A Rigger Full", which   will be on display at the TBF booth.  TBF members who join or renew at the $250 level or higher will receive one of these beautiful prints!  Steve will be at the TBF booth on Thursday, February 14, and Saturday, February 16th from 2-3 pm.
In celebration of The Big Game Room's 10th Anniversary, TBF and Carolina Skiff are offering a chance to win a boat, motor and trailer valued at over $23,000! The Carolina Skiff will be on display in the east lobby of the convention center. Raffle tickets are available for a suggested donation of $10 each and you can get yours on the TBF website, or during the boat show at the boat display, or at the TBF booth. Don't miss out on a chance to win this terrific package that benefits The Billfish Foundation!
Image courtesy The Billfish Foundation