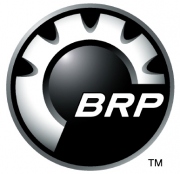 Optimus 360 delivers state-of-the-art power steering and joystick docking control to V6 engines in Evinrude E-TEC lineup
BRP announced today the introduction of Optimus 360 by SeaStar, an integrated power steering and joystick docking control specifically designed for boats running twin Evinrude E-TEC V6 outboard engines that are equipped with the Evinrude ICON electronic shift and throttle (EST) system.
With customizable steering resistance and response along with speed-sensitive helm turn ratios, Optimus 360's revolutionary power steering system provides virtually effortless shift and control at all RPM speeds – from idle to wide-open throttle. Consumers can set the lock-to-lock steering ratio according to boat speed in order to fit their unique needs.
The three-axis joystick docking control with Optimus 360 offers improved control of the boat in docking, launching and retrieving the boat from the trailer and maneuvering the boat in crowded harbors and marinas. SmartCylinders with rudder position sensors allow twin Evinrude E-TEC engines to be controlled independently or in tandem to maneuver the boat sideways, diagonally, forward and backwards, or rotate on its axis.
"Integrated into the Evinrude E-TEC platform, Optimus 360 by SeaStar will give boat operators a new level of control for their vessel and confidence in their own maneuvering skills," said Larry Koschak, Senior Product Specialist at BRP's Evinrude Outboard Engine Division. "This technology will improve the overall steering experience at all speeds and greatly reduce the stress level felt by operators as they maneuver in tight situations."
Suitable for many applications such as offshore center consoles, catamarans, high performance cruisers and other popular twin and triple engine boats, Optimus 360 integrates seamlessly into the Evinrude ICON system to eliminate bulky controls and system complexity, leaving consumers with an affordable choice of rigging options.
"The market for joystick and power steering options for both the new package and repower segments is growing, and we are excited to be working with SeaStar engineers to bring this advanced technology to Evinrude E-TEC enthusiasts," said Thomas Mason, Evinrude North American PAC Business Unit Manager.
Optimus 360 by SeaStar will be available for installation from authorized Evinrude E-TEC boat builders and dealerships beginning April 2013. Visitors to the Miami International Boat Show can stop by the BRP booth at the Miami Convention Center from Feb. 14-18 to take a virtual test drive of Optimus 360 technology. Consumers also can try out the technology first hand, which will be rigged on an Andros Offshore 32', at Sea Isle Marina during the show.
For more information on Optimus 360 by SeaStar for Evinrude E-TEC engines, visit www.teleflexmarine.com.
Logo courtesy Bombardier Recreational Products