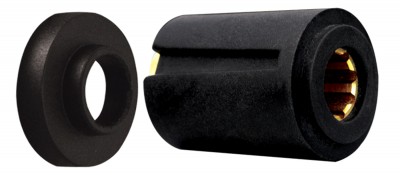 A spun hub can quickly turn a day of fun on the water into a nightmare, potentially leaving boaters stranded and vulnerable. Product durability and reliability are of foremost importance at Turning Point Propellers. That's why the company's new 200 series hubs, like all its hub kit systems, are engineered to withstand regular wear and tear over time, without risk of spinning or failure. Every Turning Point Propellers hub is backed by a lifetime warranty.
Designed for smaller 8 to 20 hp engines with a 2-1/2″ gearcase, the new 200 series hubs work with Turning Point's Hustler aluminum 3-blade propeller housings. These hubs utilize the same strong and dependable technology enhancements found in Turning Point models made for higher horsepower applications.
The 200 series hubs are comprised of a unique one-piece bushing with corrosion-resistant, glass-reinforced nylon over brass splines. This eliminates spinning and cracking problems that commonly occur with plastic splines and multi-part hub systems. A shock-absorbing polymer cushion reduces gear shock and engine/drive damage, while minimizing vibration and chatter.
The 200 series hub kits are just one part of the company's unique hub and housing systems. Turning Point hubs ensure simple housing replacement, making prop changes quick and easy. Hub kits save boat owners money as well, since they are designed to be reused even after most propeller impacts.
Turning Point Propellers offers the new 200 series hub kits for $27. In over 15 years of operation, Turning Point Propellers has earned a reputation for designing the highest quality, highest performing aluminum and stainless steel props in the industry. The company's Prop Wizard, the industry's only online pitch calculating tool, guides users to the correct propeller for each engine and boat combination. Prop Wizard is located at www.turningpointpropellers.com.
Image courtesy Martin Flory Group