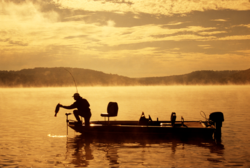 California Casualty's "Work Hard, Play Hard" contests honor and reward everyday heroes – this time with a bass boat or $10,000 equivalent cash option.
The contest runs through July 12, 2013 and is open to all firefighters, volunteer firefighters, peace officers and EMTs across the country. One entry per person can be made at http://go.calcas.com/boat. Some restrictions apply; review the rules online. One winner will be randomly selected on or about July 15, 2013 and notified shortly thereafter.
California Casualty has previously acknowledged the dedicated work of public safety professionals with contest prizes that include a Harley Davidson, Polaris ATV and SeaDoo personal watercraft. The company also sponsors a Firehouse Makeover contest.
"These are indeed everyday American heroes," said Mike McCormick, Vice President Group & Internet Marketing for California Casualty. "They work hard and they deserve to play hard. We're excited to give one of them a bass boat."
Headquartered in San Mateo, CA, with Service Centers in Arizona, Colorado and Kansas, California Casualty is a 99-year old company providing auto and home insurance for educators, law enforcement, fire fighters and nurses in 44 states. Learn more at http://www.calcas.com. For more information about the Work Hard, Play Hard bass boat contest, contact Makinya Ward at 650.572.4339.
Image courtesy California Casualty