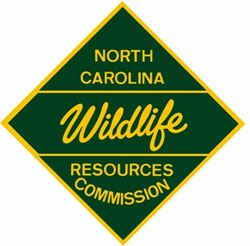 The N.C. Wildlife Resources Commission has completed renovations to the Bear Creek Boating Access Area and it is now open to the public.
The refurbished site, on Bear Creek Lake in Jackson County, features two 14-foot wide, 90-foot long ramps. The bottom elevation of the ramps is 88 feet, so boaters can launch when the lake levels are low in the winter. A normal full level in the summer for Bear Creek Lake is 100 feet, but in winter it can drop to 91 feet.
A new floating dock with handicapped-accessible handrails was also installed.
"This is the busiest spot on the Nantahala chain of lakes, and the only public access on Bear Creek Lake," said Jeff Ferguson, an engineer with the Commission. "The lake is quite deep, and offers anglers bass, bluegill, trout and other species."
The Commission manages the lake as hatchery-supported trout waters, and stocks it with catchable-size rainbow trout. Hatchery staff will stock 6,000 rainbows in Bear Creek Lake this year — 1,000 per month in March, April, May, June, October and November.
Duke Energy and the Commission jointly own the access area, and the Commission maintains it. The renovation was funded using  Sportfish Restoration Federal Grant Funds and vessel registration receipts. Duke Energy plans to pave the parking area, install a toilet and build an accessible fishing pier.
Visit the Commission's boating web page for more information on boating in North Carolina, including an interactive map of more than 200 public access areas across the state.
Logo courtesy North Carolina Wildlife Resources Commission