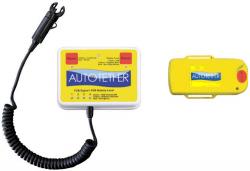 Autotether Tuesday named Sea Tech & Fun USA as the company's official sales partner for the 2013 Miami International Boat Show. Autotether's lanyard-free wireless kill switch system will be available for test and purchase at the Spade Anchor USA booth (#933) at the Miami Beach Convention Center beginning Thursday, February 14.
Lanyard-Free Safety: Cutting the Cord
Man overboard incidents represent the leading cause of injury and death among boaters – incidents entirely avoidable with an engine kill switch. Since traditional systems tend to restrict movement and are prone to accidental engine shut-off, however, many boaters choose not to connect them. By contrast, Autotether's radio frequency (RF) sensors connect wirelessly to any kill switch, sounding an alarm and shutting down engine operation within 1 ½ seconds of a pilot or passenger falling into the water. Passenger sensors may also be used to shut down the engine in the event of a runaway boat.
Autotether is simple to install aboard any boat, and requires no drilling or cutting. The receiver attaches to the boat's dash using dual lock strips, and clips directly to the boat's factory-installed kill switch. The receiver has a battery life of 150 hours and lights a low-charge indicator when its AAA-batteries need replacing. Since it's easy to install, Autotether is also transferrable between boats and is the perfect safety device to take on board with friends who don't have the system.
Image courtesy Bonefish Communications