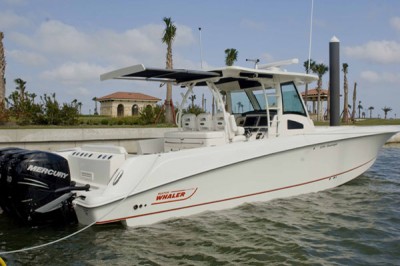 SureShade, the designer and manufacturer of retractable sunshade systems for the marine industry, will be featured on an unprecedented eleven boat models at the 2013 Miami International Boat Show February 14-18. The record number of boats on display demonstrates continued growth and momentum in boat manufacturer adoption and consumer demand for SureShade factory-install retractable shade options.
Surpassing the recent record of nine boat models at the 2012 Fort Lauderdale International Boat Show, the 2013 Miami International Boat Show sets a new milestone for SureShade with eleven boat models showcasing their retractable sunshades as factory-install options at one event. Featured boats cover nearly every segment in boating, with models ranging from center console fishing boats to express cruisers and megayachts.
SureShade is proud to be showcased on three all-new boat models that will be debuting at the show. SureShade will be offered on a fourth Boston Whaler model with the all-new 350 Outrage, a second Grady-White model with their all-new Freedom 375 and on their first Chris Craft model with the debut of the all-new Corsair 36 Hardtop.
The full list of featured boat models at the 2013 Miami International Boat Show includes:
All-new: Boston Whaler 350 Outrage
All-new: Chris Craft 36 Corsair Hardtop
All-new: Grady-White Freedom 375
Boston Whaler 370 Outrage
Boston Whaler 315 Conquest
Boston Whaler 285 Conquest
Cheoy Lee 76 Express
Cruisers Yachts 45 Cantius
Delta Powerboats 54 IPS
Grady-White Freedom 335
Sea Ray 510 Sundancer
Boat models featuring the SureShade ATF automated tele-frame shades include the 350 Outrage, 370 Outrage, 36 Corsair, Freedom 375, Freedom 335, 45 Cantius, 510 Sundancer and Delta 54 IPS. The 285 and 315 Conquests will feature the SureShade MTF manual tele-frame shade, while the Cheoy Lee 76 Express will highlight the SureShade M3 automated shade for megayachts.
"SureShade's presence at Miami has experienced extraordinary growth in just a few short years… evolving from industry newcomer on one boat model in 2009 to a must-have shade option featured on eleven leading boat models at the 2013 Miami International Boat Show," says Dana Russikoff, SureShade business leader and co-founder. "This year's debut of three more all-new models offering our shade as a factory option demonstrates SureShade's continued momentum with boat builders and the industry's commitment to choosing our innovative sunshade systems for an enhanced boating experience."
To see exclusive event photos of featured boats, follow @SureShade on Twitter along with the hashtag #MIAMIBOATSHOW for live tweeting of event pictures from the 2013 Miami International Boat Show.
Image courtesy SureShade