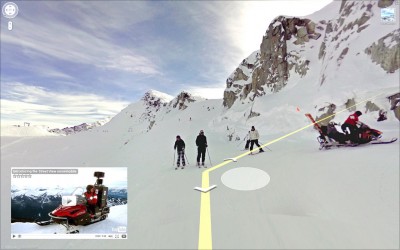 Google Maps blew a few minds when it introduced street view as a feature to its already widely popular map selections. Now the tireless innovator is at it again by adding 38 new maps for mountain resorts across the US and Canada with street (or slope?) view for select locations.
Gone is the old ski map and pamphlet tucked away in a long forgotten back pocket, Google Maps offer down-mountain enthusiasts an interactive map at their fingertips via their Android or iPhone. What's more, street view capability offers skiers and snowboarders a chance to virtually try out the slopes beforehand.
Filming for the street view capability was done using a snowmobile with a 360-degree panoramic camera and some very devoted Googlers. The project has been ongoing for several years, but with the addition of maps for so many ski resorts, we can expect even more virtual routes to be released soon.
The tech innovator recently made digital waves in the outdoors with their "street view" take on the Grand Canyon, which offered 9,500 panoramic images to armchair hikers.
Right now the mountain sports feature has a few notable locations mapped out–such as Canada's Whistler Mountain and Crystal Mountain Resort in Washington–and we heartily recommend you check them out, both virtual or otherwise.
Image from Pietro Zanarini (zipckr) on the flickr Creative Commons