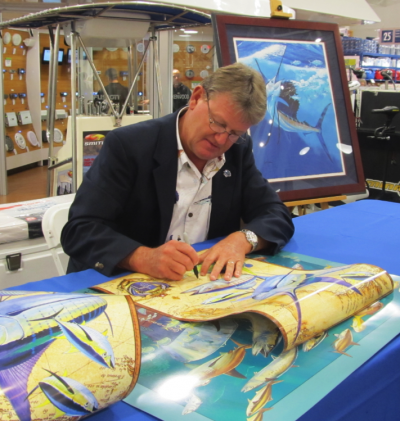 Thousands of Fans Will Take Home Guy Harvey Signed Items
The hardest working man at the upcoming Miami International Boat Show just might be marine wildlife artist Guy Harvey.
Returning for his 25th show as an exhibitor, Harvey initially sold his iconic marine artwork from a small booth at the Miami Boat Show as a young, struggling artist.
Today, Guy Harvey, Inc. and the Guy Harvey Ocean Foundation will work from more than 2,300 square feet of exhibitor space, their largest space commitment ever‹and will feature more than 7,000 items, including new Guy Harvey original artwork, new classic t-shirts designs, an expanded collection of ladies sportswear, Guy Harvey Tervis Tumblers, fine jewelry and a sneak preview of the new Guy Harvey furniture collection made from recycled plastics.
Harvey, whose corporate world headquarters are located in Broward County, will be on hand to greet fans and customers starting Thursday through Sunday during the show, which starts February 14th.
It's anticipated close to 5,000 visitors will take home a Guy Harvey personally autographed item. For more information, go to www.guyharvey.com.
Image courtesy Guy Harvey