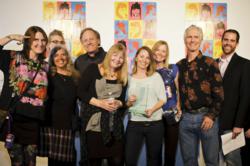 The Bootdoctors has scored high in "SKI SHOP I.Q." The Bootdoctors' stores were voted the top stores with "Most Knowledgeable Staff" in the United States by Skiing Business Magazine at their 2013 annual Skiing Business Awards event January 31, 2103 in Denver, CO in conjunction with the Snow Industries Association Trade Show. The Bootdoctors also was a finalist in the categories of "Best Bootfitting", "Best Vibe" and "Most Innovative."
"Constant improvement" is the philosophy of outdoor shop co-founders Bob Gleason and Bob Remiger. They, along with their co-owners and staff, all try out the latest gear and techniques and participate in extensive training no new gear and techniques.
Remiger explains, "All of our staff can speak about outdoor recreation from direct experience. We pride ourselves in the amount of training we do all year. It is way beyond what most outdoor sporting goods shops commit to. We know there is always more to learn. Our customers look to us for information and knowledge about best gear, best practices and best services to help them enjoy the outdoors."
The Bootdoctors started in Taos Ski Valley, NM in 1986 and has added four stores in Telluride, Colorado over the past 15 years. For 26 years this family-owned and operated sporting goods and ski shop business has focused on high quality services and products. Bob Gleason and Bob Remiger are both nationally recognized Master Bootfitters for ski, snowboard, bike and hike. Their team of bootfitters average over ten years of experience. All are advanced Master Fit University trained. Five Bootdoctor supervisors are Master Fit trainers of bootfitting for ski and snowboard shops from all across the United States. Every year at least three of the upper level staff are SKI and SKIING Magazine gear testers. Charlie Bradley, a twenty year veteran bootfitter for Bootdoctors also writes in-depth articles for http://www.blistergearreview.com.
This commitment to the search for the most updated information about outdoor sporting goods permeates the whole business.
The Taos and Telluride shops also have carefully selected lines of ski and sporting clothing, plus ski rentals, demos and sales. Their expertise goes far beyond bootfitting with deep knowledge in sporting clothing, outdoor recreational equipment, fly fishing, cycling, rafting, hiking and more. The other three co-owners, Linda Mogetz, Kyle Remiger and Penelope Gleason, all participate in hundreds of hours of clinics and training every season alongside their employees.
"Folks travel from all over to get the benefit of our highly trained staff and great customer service. We work hard to maintain the cutting edge in outdoor recreational equipment, techniques and services," says Gleason. "By staying small and focused we are able to offer a much higher level of quality in the world of sporting goods. We love the outdoors and want to help others enjoy their experiences whether skiing, biking, hiking, fishing or hiking."
Image courtesy Bootdoctors