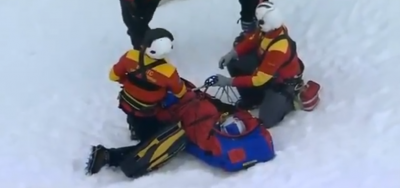 Four-time world champion skier Lindsey Vonn was competing earlier today in the Super-G at the alpine skiing world championships in Austria when she landed poorly and lost balance, causing her to tumble into a gate.
According to the Washington Post, Vonn was treated by emergency personnel for 12 minutes on the slope before being airlifted to a nearby hospital. It is reported that she has torn her medial collateral ligament (MCL) and anterior cruciate ligament (ACL), and suffered a lateral tibial plateau fracture. The injuries are not life-threatening, however they will end her season and she will require extensive reconstructive surgery.
Dr. Tom Hacket, an orthopedic surgeon known for treating top skiers at the Steadman Clinic in Vail, Colorado, told the New York Times, "There is a very good chance she could return at full force […] Each case has variables, and they will likely take more tests before there is a real treatment plan. But we've had a lot of skiers and snowboarders come back in a year and do very well."
The race had been delayed by fog for several hours, an element of the race Vonn had been previously worried about. Vonn was not the only athlete to be concerned, reports USA Today, as several other skiers had difficulty with the event. A high volume of snow had kept competitors and coaches from evaluating the course the days before.
"It's not a very difficult course but in some parts you couldn't see anything," said Fabienne Suter of Switzerland.
Tina Maze of Slovenia won the Super-G, who was ahead of Vonn by 0.12 seconds at the time of the accident.
The following is a recording of the accident.
WARNING: The video below contains some graphic content. Viewer discretion is advised.
httpv://youtu.be/xaH5B3Z0WKI
Image screenshot of video by enlightenonetv on youtube