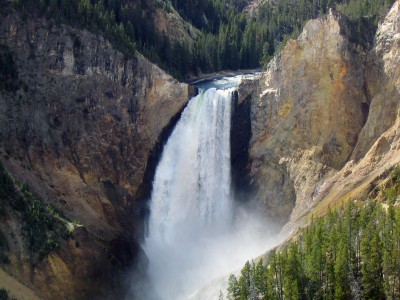 Yellowstone National Park is perhaps America's most famous national park. It's home to a diverse selection of wildlife, beautiful scenery, cartoon bears, real bears, and, of course, Old Faithful. Now Yellowstone is about to get a new resident.
From 1903 until the 1950s Yellowstone had a 100-kilowatt hydroelectric turbine generator near the Mammoth Hot Springs headquarters. That plant was eventually decommissioned.
Now a $1.1 million dollar project is bringing hydroelectric power back to Yellowstone. The new micro-hydro plant will, according to Jackson Hole Daily, generate as much as 230 kilowatts.
The new plant will produce about a third of the power needed for Yellowstone administrative buildings in Mammoth.
"It will save us about $70,000 in electricity," said Peter Gallindo, project manager and Yellowstone engineer, "It's a super-green energy source that's always there."
Like their larger counterparts, micro-hydro plants use the natural flow of water to generate electricity.
This project is part of Yellowstone's commitment to reduce greenhouse emissions by almost 800 metric tons per year.
Image copyright iStockPhoto.com/Erik Marr