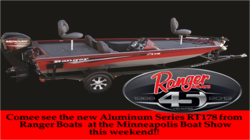 Ranger Boats is proud to showcase several unique models of the new 2013 line up at the Minneapolis Boat Show this weekend. The company kicks off celebrating 45 years of boat-building excellence at one of the top boat shows in the country. The best selling boat in the region—the 1850LS Reata—is one of the special-event production models, as is the new Carbon Edition bass boat—the Z520C. Additionally, the Minneapolis Boat Show marks the first appearance of the new aluminum boat line, with the RT178 on display for show attendees.
"We added some great features to the 1850LS and the Z520C special 45th Anniversary editions," shared George Liddle, Ranger Boats Manufacturer's Representative. "Wider, with more interior room and storage, the beam is now a full 100 inches on the 1850," shared Liddle. "This boat, even without these improvements, has been the number one selling model in Minnesota. Everyone likes the subtle improvements and the attention to detail for 2013."
The Z520C has also experienced 45th Anniversary improvements: rich clear coat paint process with carbon-fiber lamination, red LED interior lighting and red anodized appointments throughout the boat. Additionally, custom paint packages are available for a limited time.
Enticing show specials make attending the show—and buying at the show or shortly thereafter—well worth the trip. Available for a limited time (expiring February 15, 2013) qualifying purchases will be automatically upgraded to a custom, deluxe Ranger boat cover as well as varying credits (depending on the model) toward premium, Ranger clothing and RangerWear.com accessories. The packages are worth up to $1,450—a valuable benefit to Minneapolis Boat Showgoers.
Operation Troop Salute is a military appreciation program with special pricing and benefits. Veterans and their families should ask for details while shopping with Ranger Boat dealers at the show.
The legendary brand of Ranger Boats brings all the quality, all the craftsmanship to a new line of aluminum boats in 2013. "We will gladly stack our aluminum production capabilities up against any other boat builder," shared Liddle. "These are finely-crafted, quality aluminum boats with superior design and space application. Check them out—compare them all."
Several dealers will display Ranger Boats at the Minneapolis Boat Show at the Minneapolis Convention Center in Minneapolis, Minnesota. Stop by and see them all. Show hours are:
Thursday, January 31 from 2 p.m. to 10 p.m.
Friday, February 1 from Noon to 10 p.m.
Saturday, February 2 from 10 a.m. to 9 p.m.
Sunday, February 3 from 10 a.m. to 5 p.m.
Image courtesy Liddle Marketing Company