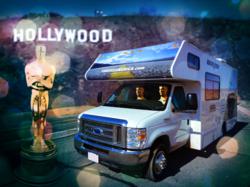 Cruise America (cruiseamerica.com) the nation's leader in RV rentals and sales, has been named as the official Oscar carrier for the 2013 Academy of Motion Picture Arts and Sciences (better known as "The Oscars") awards show. In an effort to get fans in the spirit of the Academy's February 24 broadcast, Oscar is taking a road trip to pay a visit to the nation.
For the first time in the history of the Academy Awards, which began in 1929, Oscar will be taking a 21-day social media publicity tour across the United States. This historical road trip will take him from New York to Hollywood, visiting several cities in-between. His royal coach will come in the form of a Cruise America recreational vehicle.
Cruise America representative, Michael Smalley said; "Cruise America feels it a privilege to be associated with a time-honored event such as the Oscars. These awards are given as a merit for distinctive achievement in the film industry, so it's only fitting that Oscar would be treated to a ride in a top-of-the-line Cruise America RV."
On Monday, February 4, the Oscar-carrying motorhome will depart from New York, heading west on its American cruise. While there are 11 designated cities that Oscar will be visiting, the majority of the trip's stopping points will be determined by the Oscar fans. These impromptu visits will be selected based on their reactions and input on social media. As Oscar rolls into their towns, fans will be able to see the iconic statuette and have their picture taken with him. They will also be able to track the journey of Oscar on Cruise America's Facebook page.
The set itinerary for the Oscar Road Trip is as follows:
Week 1:
Feb 4: New York City
Feb 5: (Fans Decide)
Feb 6: Philadelphia
Feb 7: Washington DC
Feb 8: Baltimore
Feb 9: (Fans Decide)
Feb 10: (Fans Decide)
Week 2:
Feb 11: Chicago
Feb 12: (Fans Decide)
Feb 13: St. Louis
Feb 14: (Fans Decide)
Feb 15: Kansas City
Feb 16: Fans Decide
Feb 17: Houston
Week 3:
Feb 18: Dallas
Feb 19: (Fans Decide)
Feb 20: (Fans Decide)
Feb 21: Phoenix
Feb 22: (Fans Decide)
Feb 23: (Los Angeles)
Feb 24: (HOLLYWOOD)
The team of 5 that will be journeying with Oscar in the Cruise America Motorhome will be made up of two breakout comedians and a production crew. The high voltage publicity of this tour will come in the form of visits to different locations chosen by the fans, so besides the cities that have been preselected, the road trip team doesn't know where they will be traveling to. Oscar may end up at someone's wedding, perhaps in a children's hospital, a high school, or at some special event. The fans will decide.
Cruise America offers their inventory of fully equipped, self-contained class C rental RVs and used motorhomes for sale on their website, as well as an extensive list of their rental and sales locations. This enables the public to research, review and make their selection according to their needs. On the site there are informative videos, featuring the many accommodations and convenient amenities that come with each model. Those interested may join Oscar as he debuts his RV lifestyle by renting an RV of their own.
Image courtesy Cruise America