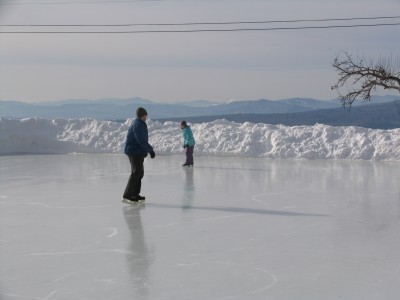 Mt. Blue State Park, in the lakes and mountains region of western Maine, will come alive Saturday, Feb. 2, with a wide variety of Winter Family Fun Day activities. In addition to tote and sleigh rides, ice skating and much more, the event will feature the Ski and Snowshoe Trailer, providing free use of cross-county skis and snowshoes.
The action runs from 10 a.m. to 3 p.m., and includes a hot lunch and a warming station.
Mt. Blue's Winter Family Fun Day is part of the "Take It Outside" campaign run by the Parks and Public Lands Division of the Department of Agriculture, Conservation and Forestry. "Fun Days have become very popular wintertime events at our parks," said Will Harris, director of Parks and Public Lands. "The idea is to encourage Maine families to get outdoors for recreation, relaxation and health."
Director Harris said the parks are able to keep the activities affordable for Mainers thanks to the support of sponsors. Saturday's program, including lunch, is offered for the bargain price of $1.50 for anyone aged 12 to 64. For those over 65 or under 12, everything is free.
The Ski and Snowshoe Trailer and its contents were provided by a grant from the Maine Outdoor Heritage Fund, along with sponsorships by L.L. Bean, Wicked Joe Coffee and Healthy Hometowns, a program of the Maine Winter Sports Center. The trailer has 66 pairs of cross-country skis, boots, bindings and poles, and 44 pairs of snowshoes.
This is the second year for the Ski and Snowshoe Trailer, which will be making the rounds this winter, stopping at a number of Maine state parks. The upcoming schedule, besides Mt. Blue, includes Bradbury Mountain State Park, Wolfe's Neck Woods State Park and Aroostook State Park.
Mt. Blue manager Bruce Farnham reports that all cross-country trails are groomed and in good shape and the sliding is excellent on Center Hill. The ice rink, often described as the most beautiful outdoor rink in Maine, is open for the season. The cross-country trails, ranging from a half mile to 10 miles, are for skiers of all abilities. The 10-mile Maple Trail traverses fields, old farmlands and several types of forest.
Mt. Blue, the largest Maine state park at approximately 8,000 acres, is in Weld, about 30 minutes west of Farmington, near the intersection of Maine Routes 142 and 156. For more information, contact the park at (207) 585-2261 or visit http://www.take-it-outside.com/.
The Winter Family Fun Days program enjoys the generous support of L.L. Bean, Poland Spring, Wicked Joe Coffee and the Maine Winter Sports Center. Local sponsors for the Mt. Blue festivities include Northern Lights Hearth & Sports, Franklin Savings Bank, Irving Big Stop, Weld General Store and Skoolhouse Variety.
Image courtesy Michigan Department of Natural Resources