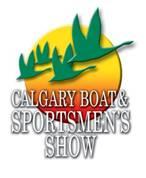 The doors to the 2013 Calgary Boat and Sportsmen's Show will officially open at 1:00 pm on Thursday, February 7th, 2013 at the BMO Centre, Stampede Park. The Show runs right through until 5:00 pm, Sunday, February 10th, 2013.
Southern Alberta's Biggest Fishing and Outdoor Show is a mecca for all things related to an outdoor lifestyle. It will feature boats, marine products and accessories valued at over $17 million, in addition to hundreds of exhibitors and retailers.
If it floats or is somehow related to fun on the water, you will find it at this year's Show, including boats of every size and description, boat trailers, ski ropes, wakeboards, tubes, personal flotation devices and so much more. Getting geared up for the outdoor season ahead would not be complete without a visit to this year's Calgary Boat and Sportsmen's Show.
"As Albertans ,we are aware that our time on the water can vary from one year to the next, therefore it is imperative we take full advantage of the season Mother Nature provides," says Laurie Paetz, Show Manager, "It is important to plan early in order to take every advantage of the entire season, and placing an order for your new watercraft at the Show will ensure an early Spring delivery, allowing you to make the most of your time on the water."
The Fishin' Hole's 33 Hour Fish-Tacular is a must stop if you are in the market for fishing or outdoor gear. You will secure some of the best prices of the season on lures, line, rods, reels, tackle, outdoor gear and so much more.
If you want to instill a love of the outdoors and all the fun it has to offer, be sure to stop by the Kids Fishing Pond, where for a $2.00 donation, kids under the age of 12 can fish for live trout. All the proceeds from this catch and release program benefit the Calgary Fish & Game Association.
For the more adventurous youngsters, there is the Honda Junior Red Rider Program for those aged 6-12. Parents can sign their kids up for a session which includes professional riding instruction followed by a chance to gear up in the latest safety equipment and then take to the supervised track to try out their skills. These sessions fill up quickly, so be sure to sign up when you arrive.
The Alberta Birds of Prey informational sessions always leave crowds in awe, not only because of what they have learned about these amazing creatures, but by the experience of interacting with them. Learn how these birds ended up at the Centre and what an enormous impact the Alberta Birds of Prey Foundation has had on the lives of so many endangered and injured birds of prey.
The Alberta Hunter Education Instructors' Association (AHEIA) has taken that to heart in their attempts to promote a high standard of sportsman behavior and teach the ethical and human treatment of all living things . In keeping with their mandate, AHEIA will have numerous educational interactive and static displays for show goers to not only view but interact with.
If an outdoor adventure trip is in the cards, you will want to stroll through the Adventure Travel and Tourism section of the Show. There, you can do all the necessary research, compare and book your fishing, hunting or outdoor adventure trip to destinations throughout North America.
The Fishing and Hunting Presentation Pool will be the home to a diverse, cross section of outdoorsmen and women throughout the weekend. Their extensive experience and wealth of knowledge is rivaled only by their passion to tell stories and share what they have learned. This year's line-up includes: Chris David, host of "The Hunting Chronicles", Professional Outfitter and Cabela's Pro-Staffer, Claudio Ongaro, Outdoor Writer and Photographer Brad Fenson, and co-hosts of "Outdoor Quest TV", Sandi and Richard Mellon, T.J. Schwanky and Vanessa Harrop. Presentations on a variety of hunting and fishing topics will run throughout the weekend, so be sure to the on-site schedule for presenters, times and topics.
Don't miss out on the opportunity to enter for your chance to qualify for the Grand Prize, a $5,000 "Shop the Show Sweepstakes"
Logo courtesy Canadian National Sportsmen's Shows