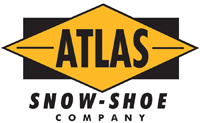 For mountain adventurers everywhere, Atlas Snow-Shoe Company presents an improved version of its award-winning backcountry snowshoe, the Atlas Aspect. With a new, lighter construction and quick-closure, field-replaceable bindings, the revolutionary new Aspect will take climbers, mountaineers, and backcountry enthusiasts to the next level.
The Atlas Aspect, which received accolades from the press and was awarded Outside Magazine's Gear of the Year Award for 2012, was specifically engineered for the demands of the backcountry user. Never satisfied, the innovative Atlas engineers set out to improve upon its award-winning design.
The new Aspect features a lighter construction that sheds a ½ pound per pair while ReactiV-Trac construction provides unparalleled performance on demanding terrain. The redesigned PackFlat binding comfortably accommodates larger snowboarding or mountaineering boots and features a new Z-Strap which quickly secures the foot, offers field-replaceable straps, and still packs flat for a quick descent.
The new Atlas Aspect is a reliable addition to any mountaineer, ice climber or backcountry snowboarder's kit for going deep and getting home safe.
FEATURES:
ReactiV-Trac construction features aggressive sawtoothed perimeter traction for deep purchase.

Integrated elliptical nose facilitates comfortable articulation of Atlas Spring-Loaded Suspension.

Unsurpassed fore and aft traction allows for independent engagement of the snow directly underfoot, no matter how rough the terrain.

Heel lift bar eases calf fatigue on steep ascents.

Streamlined Inifinity Decking maximizes surface area in a unique, low-profile attachment.

Easy to stow, featuring a shallower nose angle and the PackFlat binding.

Redesigned PackFlat binding with field-replaceable Z-Strap accomodates larger snowboard or mountaineering boots.

Includes Atlas BC Utility Strap for on-mountain emergencies.

Weight: 4.1 lbs per pair (24").

Atlas Aspect available in 24 and 28"
MSRP $289.95
Logo courtesy Atlas Snowshoe