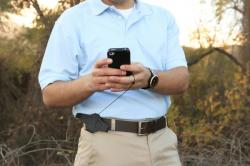 The new ProLink Holster and Case from T-REIGN lets you enjoy peace of mind knowing your iPhone will never be dropped, left behind or stolen. It's the only iPhone holster with an integrated retractable Kevlar tether.
No more "dropped" calls takes on a new meaning with the ProLink, thanks to its 36″ tether with 80 pounds breaking strength. The holster can be anchored on your belt, backpack or purse strap. Both holster and case are made of impact-resistant polycarbonate and are slim, lightweight and durable.
The case snaps in place with the phone screen facing in or out, and has a quick disconnect from holster to case, to dock, share or charge. Another feature of the ProLink is the design of the versatile holster clip, which doubles as a stand for hands-free viewing.
Now available for iPhone 4 and 4S, ProLink is the latest addition to the growing family of T-REIGN retractable Outdoor Products. It comes complete with holster and case, with a retail price of $39.95. Also available, case and wrist lanyard for $24.95. To learn more about T-REIGN's complete line of retractable outdoor products, visit their website at www.t-reign.com.
Image courtesy T-Reign