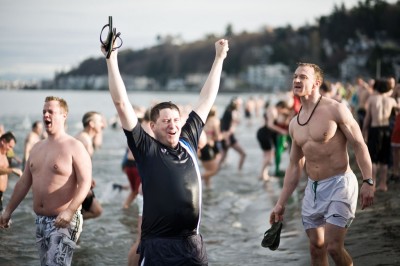 Polar bear plunges can trace their lineage to as far back as the early 1900s, and the excursion has changed little since then. Every winter, Americans don swimming suits–maybe an absurd costume or two–and take to the icy cold water in the name of a good cause.
The 17th annual Polar Bear Plunge at Maryland's Chesapeake Bay featured more than 8,000 freezing and maybe regretful participants. It's all about charity–every year the Maryland State Police sponsor the plunge to raise funds for the state Special Olympics. Similar occurrences in New Jersey, Arkansas, and the rest of the country happen every winter and they draw crowds.
According to The Baltimore Sun, individual polar bear plunges can raise as much as $2 million for charities.
"Writing a check ain't no fun," said Brian Cavey, who dressed up as Fred Flintstone. "We gotta go out there and do what everyone else is going to do–get in that ice-cold water like a bunch of crazy people."
A pledge of $50-100 per participant will earn them the privilege of splashing through below-freezing water, and the special feeling of doing something good. Most of the plungers race though the water and back out again but some go further. The especially adventurous can be seen actively swimming, splashing others, or dunking their heads in.
"Cold!" sputtered 72-year-old Matt Andrews. "But it felt good, baby. It's stimulating. Oh, my gosh. It's worth it, worth every minute of it."
So if you're feeling especially cold this winter, just remember you could be doing it for charity instead.
Image from Henrik Brameus (Henrik) on the flickr Creative Commons