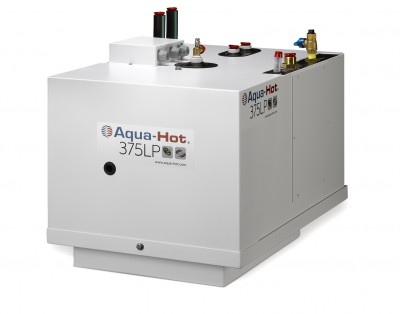 Gas-fueled recreational vehicle, towable and park model owners should be able to enjoy the same warmth and comfort as class A diesel motorhome owners. With Aqua-Hot Heating Systems' 375-LP, they can. Making the road a more cozy place, this hydronic heating system runs on propane, providing quiet, moist, even cabin heat and continuous, on-demand hot water.
The 375-LP features two sources of energy for heating comfort. It uses AC shore power for light-duty heating and hot water use and propane fuel for heating in colder temperatures and continuous hot water.
Unlike noisy, forced-air systems, the advanced Aqua-Hot 375-LP delivers uniform interior heat by circulating hot water through subtle heat exchangers. Three separate thermostatic heating zones and two circulation loops ensure consistent warmth throughout the cabin.
Heating water only as needed, the space-saving Aqua-Hot 375-LP provides an unlimited supply of hot water and eliminates the need for a storage tank. Energy efficient and environmentally friendly, it barely uses 0.25 gallons of propane per hour and produces low emissions.
The 375-LP has lower maintenance costs because annual filter and nozzle changes are not required. Servicing the unit is simple with over 160 factory trained service centers in North America.
Measuring just 16.75″ H x 18″ W x 29.5″ L and weighing only 155 lbs., the compact system can be easily installed as an RV is being built or retrofitted into an existing coach. This hydronic heating unit adds thousands of dollars in value to any rig.
Image courtesy Martin Flory Group