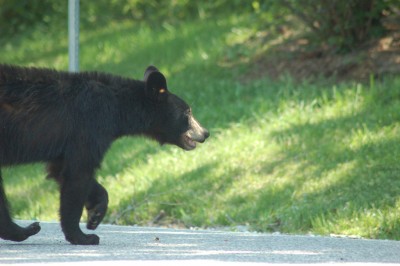 Bonita Springs Nature Place received an unwelcome visitor late last week when a suspected black bear trashed eight beehives and water treating equipment. According to WBBH-TV, the resulting wreckage amounted to over $2,000 in damages and about half a million displaced bees.
The scene when employees arrived in the morning was one of absolute chaos. Broken water tanks were sprouting liberally and hiveless–as well as a bit irate–bees swarmed the area.
"The beehives were scattered all over in the bushes, all over in the yard. It looked like he or she had a big party," said Nature Place Ambassador Corey Hyde. All eight beehives owned by the Nature Springs had been demolished. It didn't take employees long to pin the culprit though. The bear left markings on the trails and nature center grounds as it gorged on honey.
The bees were kept as a part of the center's Honeybee Observation Hive to demonstrate the crucial place bees have in maintaining a healthy ecosystem. It was a favorite of local school tours.
"They were all upside down, scattered all over the place, honey on the ground, comb on the ground, bees everywhere, " said Collum Hasty, one of the volunteer caretakers at the Nature Place.
Repairs are taking place on the center's water treatment gear, but the bees will have to be moved inside to deter future bear attacks.
"We do have a safe place for the bees to go and hide from the bear, unless the bear can figure out how to open the door," Hyde said.
Image from Carly Lesser & Art Drauglis (Carly & Art) on the flickr Creative Commons