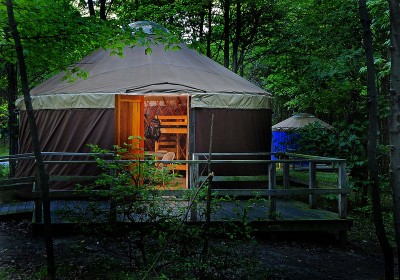 If inquiries about campsite application forms for reservable sites at West Virginia's state parks and forests is an indication, camping in 2013 could be a banner year. The camper population in the summer months on any given weekend at smaller campgrounds can exceed the populations of Alderson or Buffalo and at areas such as Beech Fork can meet or exceed the population of Meadow Bridge or Peterstown.
"We can quickly change from a few dozen people to more than 1,600 individuals seemingly overnight," says Matt Yeager at Beech Fork State Park. "Families like to camp. It is one of those quintessential summer pastimes."
Twenty-nine state park areas in West Virginia manage campgrounds. Many of those areas also feature lodges, cabins, cottages, swimming pools and other outdoor recreation options. Campgrounds open for spring camping and vary from mid-March and April and are somewhat weather dependent. Reservations for designated reservable campsites run from Memorial Day through Labor Day weekends at most areas. Prior to the Friday before Memorial Day, sites are on a first-come, first-served basis, with the exception of Stonewall and Canaan Valley resorts.
Stonewall Resort campsites are reservable for any time of the year, weather permitting, for the 46 full hook-up sites. Likewise, Canaan Valley's 34 campsites are all reservable from May 1 through October, weather permitting.
Reservations at seven areas are first-come, first-served only. Those campgrounds are located at Audra and Moncove Lake state parks, Seneca State Forest, and Berwind, Bluestone, Panther, and Plum Orchard Lake wildlife management areas. The natural settings and relaxed atmosphere with fewer amenities remain popular.
Twenty parks and forests have reservable sites and an inventory of some first-come, first-served sites also. Pipestem Resort is an exception. Pipestem will have all sites as reservable from Memorial Day weekend through Labor Day in 2013.
"It is a new way of operating the campground," says Steve Robertson, Pipestem recreation supervisor. "We've listened to our campers and what they want is the reassurance there is a site for them upon arrival. Having all campsites available for summer reservations is good for our customers and also helps the park better operate the campground facilities."
Other areas with designated reservable and first-come, first-served sites are: Babcock, Beech Fork, Blackwater Falls, Bluestone, Camp Creek, Cedar Creek, Chief Logan, Holly River, Little Beaver, North Bend, Tomlinson Run, Twin Falls, Tygart Lake and Watoga state parks; and Cabwaylingo, Coopers Rock, Greenbrier, Kanawha and Kumbrabow state forests. Holly River campground will reopen in 2013 and those dates will be posted on the website. Holly River is still in recovery mode from the Oct. 29, 2012 storm, Sandy.
Beech Fork State Park in Cabell County features 275 sites. Of those sites, 136 are reservable. Beginning March 15, 2013 an online reservation service will be available for Beech Fork State Park with online access located on www.beechforksp.com, (see Online Campground Reservations). "We do accept the mail-in applications for the reservation sites beginning Feb. 15 through March 14 just like the other park campgrounds," says Matt Yeager. "On March 15 both phone-in and the new online reservation options for campsites reserved from Memorial Day to Labor Day weekend will be accepted."
Parks begin processing mail-in applications on or after Feb. 15 of each camping year. On March 15, campsite reservations for site occupancy dates from the Friday before Memorial Day to Labor Day are taken by phone and via mail. On April 1, walk-in reservations are processed. Applications and information for each park with reservable sites is located on www.wvstateparks.com, Lodging and Camping tab, "Campgrounds."
For camping dates prior to Memorial Day and after Labor Day, sites become first-come, first-served. "I wish campers were lined up for sites prior to Memorial Day and after Labor Day, but it isn't the case," says Brad Reed, district administrator. "If retooling our reservation process would create 100 percent occupancy, even if only on weekends from Labor Day through Oct. 31, it would be great, but after summer the demand for site rentals are less and campgrounds are not as busy." The need for formal reservations currently isn't necessary in the off season.
Reed believes the online reservations and improved mail-in process at Beech Fork will help the park expedite check-in by campers upon arrival. The change to all sites designated as reservable in advance at Pipestem Resort is also seen as positive change benefiting campers.
For information about West Virginia State Park campgrounds, visit www.wvstateparks.com.