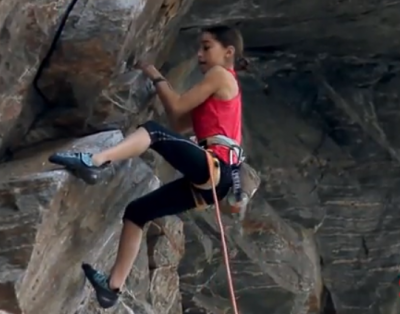 It could be said that 11-year-old Brooke Raboutou was destined for greatness, although her parents might think they had something to do with it. Born to climbing world champions Robyn Erbesfield-Raboutou and Didier Raboutou, Brooke began her training her talent at only a year old according to her profile at Team ABC Boulder. She began climbing regularly at age four and started competitive rock climbing soon after.
"To be a really good climber you can't just have it. You have to train really hard. Take it very seriously," Brooke says, attributing her skill and talent to the tutelage of her parents. Her father Didier Raboutou built a home-made rock wall in their backyard and takes great pride in guiding his children on their first steps up.
"We started when they were itty bitty… as soon as they could walk we tied them into a rope and let them try to climb. It's something that has always been in our lives," said Robyn Erbesfield-Raboutou.
Brooke came first in the youth girls category at the ARCO  international climbing competition in Italy, but she has her sights set high.
"I like to look for challenges. It keeps me motivated…if I don't make a route it just motivates me because I don't want to leave it undone," Brooke said. One of her favorite climbing routes is the Red River Gorge in Kentucky.
httpv://youtu.be/5P5akoQ_eNI
Image screenshot of video by thnkrtv on youtube