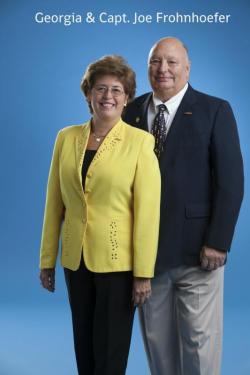 Sea Tow Services International, Inc., the nation's leading commercial on-water marine assistance provider, celebrates its 30th Anniversary in 2013. Sea Tow was founded by Capt. Joe Frohnhoefer after the U.S. Coast Guard ceased providing non-emergency assistance services to boaters in 1983. In doing so, he helped create a brand-new industry that over the past three decades has helped to make boating safer and more enjoyable for millions of boating enthusiasts around the world.
Today, Sea Tow is a thriving, franchise-based network with more than 100 locations and hundreds of highly skilled Captains across the United States, with additional offices in Europe and the Caribbean. This network consists of a dedicated team of U.S. Coast Guard-licensed Captains, crew and support staff who are standing by around the clock to serve the needs of Sea Tow's members and other boaters. In addition to providing peace of mind on the water 24/7, Sea Tow membership also includes access to affordable marine insurance, professional boating safety advice and valuable discounts on marine services and gear.
"It's hard to believe it's been 30 years since we established our first Sea Tow operation in Southold, N.Y.," said Capt. Joe. "Our industry has grown and changed over the years, but I am proud that our Sea Tow family continues to provide the most professional and comprehensive services available nationwide to our boaters."
At first, after the U.S. Coast Guard ceased providing non-emergency assistance, boaters who had long considered their right to free on-water aid as an entitlement balked at having to pay for it. But soon they were won over by Sea Tow's high level of service provided by its highly trained professional Captains, and offered to members for a low annual fee.
Thirty years later private commercial on-water non-emergency assistance is the norm and the U.S. Coast Guard is able to focus on its broader missions of emergency search-and-rescue and Homeland Security.
Along the way, Capt. Joe has had to fight to protect Sea Tow and its members from imitators providing inferior services. In fact, in 2010, the United States Patent and Trademark Office issued a certificate of registration affirming Sea Tow's exclusive right to use the color yellow in connection with its marine assistance service in the U.S. This historic event put Sea Tow in a select group with major corporations like UPS (brown), Owens Corning (pink) and The Home Depot (orange).
Sea Tow has continued to lead the industry with innovations like its free Automated Radio Check service, which lets boaters easily check that their VHF radios are working without tying up the Channel 16 emergency channel. In 2012, the company launched the award-winning Sea Tow App for smartphones, which provides up-to-date weather and tidal information, GPS coordinates and speed, and an instant link to Sea Tow's 24-Hour Call Center to summon help if the need arises.
Under Capt. Joe's direction, Sea Tow has been dedicated to improving boating safety through education and outreach from its beginning. In 2007, he established the nonprofit Sea Tow Foundation, to promote safe boating practices. The Sea Tow Foundation encourages boaters to wear life jackets while boating and provides boaters in many locations throughout the U.S. with "loaner" life jackets for adults and children.
Capt. Joe also has donated his time and expertise over the years to several marine-related boards and committees. In 2006, he was appointed to the Towing Safety Advisory Commission (TSAC), which advises the Department of Homeland Security through the U.S. Coast Guard on matters relating to shallow-draft inland and coastal navigation and towing safety.
"I'm proud of all we've accomplished the last 30 years," Capt. Joe said. "We couldn't have done it without the dedication of our employees, franchise owners, Captains and crew; as well as the support of the boating public. We look forward to serving their needs for another 30 years and more."
Image courtesy Sea Tow Services International