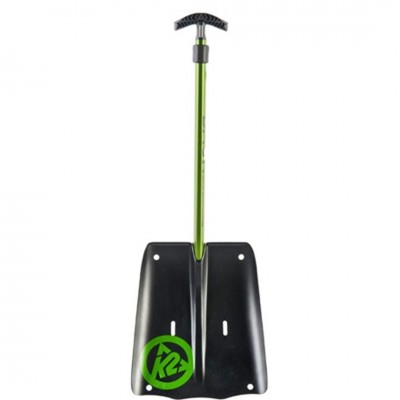 New Rescue Shovel Plus – Ice Axe "The Shaxe" Adds to Mantra of Reliable and Multifunctional Tools
K2's BackSide tools collection continues to look to the art of multi-functionality and weight saving. An innovative solution to carrying multiple safety tools that consume pack space and add to overall weight, K2's tool collection- the new Rescue Shovel Plus Ice Axe – is the ultimate multi-purpose backcountry tool for a wide array of winter adventures.
Modeled off of K2's successful Rescue Shovel Plus platform, which was designed to not only function as a standard shovel, but also as a hoe, emergency rescue sled, dead man anchor, and as a flat surface for a stove, the new Ice Axe edition of the Rescue Shovel Plus features a removable handle with an interchangeable ice axe head to equip the user with yet another function for extreme winter conditions.
Complete with a storage sleeve and rescue sled instructions, the handy multi-purpose tool is certified to European Community (CE) standards for global distribution. Beyond the convenience of carrying one tool, the Rescue Shovel Plus – Ice Axe is lighter, deploys longer than the average backcountry shovel, and is more cost-effective than purchasing several separate tools.
The new Rescue Shovel Plus – Ice Axe is the latest addition to K2's trusted BackSide collection. For over 15 years, K2 has driven innovation in the backcountry market and is fully invested in the importance of safety through their commitment to offer reliable and multi-functional tools.
Features: Emergency Sled Ready with included hardware, Hoe Mode, Blade Webbing Holes for use as a Deadman Anchor, Removable Handle, Interchangeable Ice Axe Head, Storage Sleeve
Weight: 810g, (Ice Axe only, 365g)
Handle Length: Extended 64cm (25 ¼"), Collapsed 41cm (16")
Blade Dimensions: 25cm x 28cm (9 ½" x 11")
Image courtesy Verde PR & Consulting