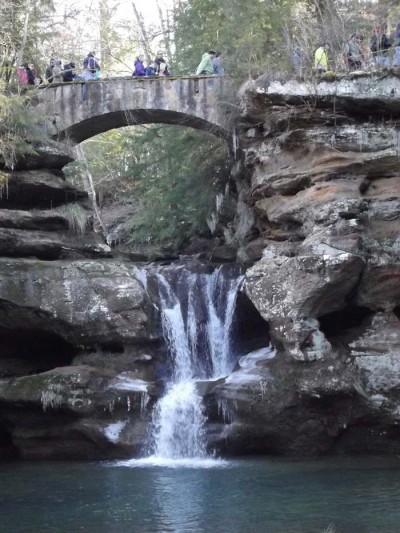 More than 4,300 people participated in this year's 48th annual Winter Hike at Hocking Hills State Park in Logan, Ohio! ODNR Director James Zehringer did the hike with his wife, Sharon, and many members of ODNR's executive staff also participated in the event. Although the weather was not as cold as it has been in previous years, some icicles were still visible on the hike
A highlight of the hike occurred at Cedar Falls when Zehringer presented the Heart of Hocking award to Peggy LeMay of Zaleski, Ohio. Peggy has volunteered at Hocking Hills State Park for more than 12 years for events such as the Halloween campout and VIP campout as well as helping customers with information or directions. Congratulations to Peggy for receiving this award!
The annual Winter Hike at Hocking Hills has grown into one of the most popular winter hikes throughout Ohio. There are several more great winter activities occurring statewide at Ohio State Parks, including the "Can You Name a Tree By its Bark?" at Van Buren in northwest Ohio on Jan. 27 at 2 p.m. at Shelter House No. 3. Another event is the 33rd annual Buckeye Trail Winter Hike at Findley State Park on Feb. 2 at 10 a.m., and there will be a Polar Bear Plunge at Geneva State Park on Feb. 9 at Breakwater Beach. Hueston Woods State Park is also offering a Winter Bird Hike on Feb. 9 at 10 a.m. at the nature center. Don't stay inside when there are fun events happening outside this winter!
Click here for more information about fun winter activities at Ohio State Parks: http://bit.ly/OSPwinterhikes
Image courtesy Ohio Department of Natural Resources