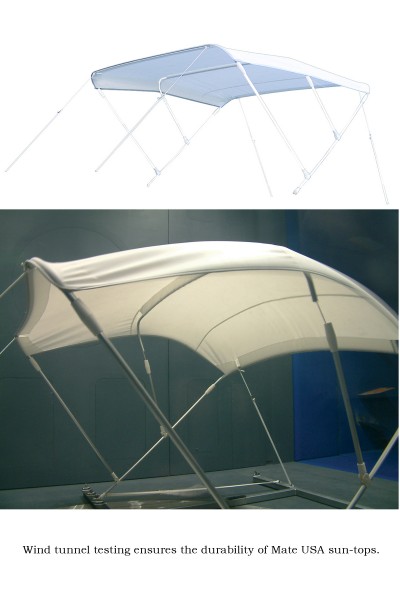 In the heat of the day, the comforts offered by a bimini or sun-top can be a welcome relief on all types of boats. The space-saving, foldable Bimini sun-top from Mate USA provides protection and cooling shade while maintaining ventilation, visibility and free movement onboard.
One of several sun-top models offered by Mate USA, the lightweight Bimini is easily set into place with a choice of mounting options. By installing several mounts, the user can move the sun-top throughout the day to provide maximum shade. Locking joints on the Bimini's frame enable it to fold quickly into a compact package when not needed, complete with a storage bag. The disassembled Bimini is small enough for UPS shipment to customers.
Mate USA's high production standards and rigorous wind tunnel tests ensure the durability of its sun-tops. Despite its average weight of just
13 lbs., the Bimini is engineered to withstand speeds up to 33 knots. It carries a lifetime warranty.
Italian design imbues Mate USA sun-tops with good looks as well as durability and strength. The graceful, light appearance of the Bimini's three arches belie their tough marine aluminum alloy construction. Made of 0.78″ tubing, the arches are coated with white powder paint finish.
Zytel fiberglass nylon joints make the sun-top maintenance free. The top itself is a waterproof fabric available in white, beige or navy blue.
The Bimini is available in five widths to accommodate a variety of boats. Bimini sun-tops in 60″, 67″, 73″ and 79″ widths include a choice of two standard heights, either 45″ or 55″.  The 89″-wide model is 55″ high.
Mate USA's numerous deck fitting accessories make it easy for boat owners to customize the sun-top mounting for their particular craft.  Bimini sun-tops start at $455. A video demonstrating the folding Bimini is available at www.youtube.com/Tessilmare.
Image courtesy Martin Flory Group