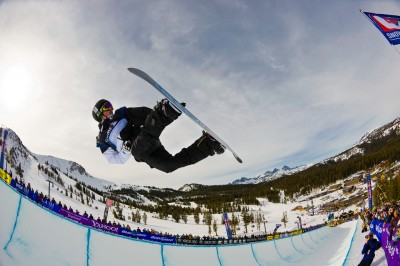 With promised triple corks and powdery slopes, this year's X-Games are looking to impress. With some (if not most) of the world's best winter athletes competing, it wouldn't be strange to see a few new faces. However these aren't new faces to fans of ATV or motocross racing, in fact more and more professional athletes like motorcyclists Daniel Bodin and Tucker Hibbert are making cameos in the Winter X-Games as snowmobile competitors. They're not here just to have fun, these are some serious contenders.
Savvy athletes willing to diversify their talents and winnings are showing up in droves. According to ESPN.com, some of the top snowmobile racers got their career started somewhere else.
"I think the allure is that there is not as many shows or events where you can do just one thing and get paid well for it. By opening up and having skills on two machines, you open up the door to do more shows, more competitions and more events, which is how they get paid and how they live their rock star life," says sport organizer Joe Duncan.
It is especially disconcerting for Australian native Jackson Strong who is more used to a dirt bike than snowmobile, and sand than snow. Strong is a previous X-Game Trick Bike Champion and a recent snowmobile convert.  He first saw snow only a year ago yet now he stands poised to compete with athletes who have been doing winter sports all their lives.
"I can't say I'm going to be there to win because I think my lifetime riding time on a snowmobile is going to be around five or six hours," Strong said. "I just want to go out and have some fun. If I can land my tricks safely and maybe medal that would be a highlight in my career."
Returning competitors have also found new ways to do things. The Boston Globe reports New Englander freeskier Simon Dumont is coming back to the X-Games from a debilitating wrist surgery. The kicker? He will be performing all his moves without the aid of poles.
"I'm just going without poles," Dumot said almost casually. "This isn't the end of the world but it will be different. I don't have much expectations. I want to stay competitive and keep that competitive edge."
Dumont is a previous X-Games champion and intends to stay lean for the upcoming winter Olympics.
Image from John Lemieux (John Lemieux) on the flickr Creative Commons