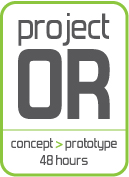 A Prototype Backcountry Ski/Snow Jacket, Doubling as a Street-Ready Fashion Piece. Prototype jacket must incorporate an accessory that covers and protects the ears
The student designers participating in Project OR Cycle 10 are "off and sewing" after a ceremonious design brief reveal this morning. The challenge for five student designers will be to create a female backcountry ski jacket during the outdoor industry's original 48-hour concept-to-prototype student design competition.
Held in conjunction with and filmed live at the Outdoor Retailer Winter Market tradeshow, the competition will run January 23-25, in the Salt Palace Convention Center meeting room 155 (co-located with the Design Center).
Prototype jacket designs must transcend traditional boundaries by traveling from cliffs to canyons and from tills to taverns. With one convertible element, this jacket and accessory must be as street ready as it is shred ready. The jacket must also include an accessory that covers and protects the client's ears.
As always, contestants must consider the garment's full life cycle, its care requirements and how to incorporate repurposed materials. In the final stages of the competition, designers will identify and justify design for their outfit's components and features.
The winning design will be announced on Saturday, January 25 at 4:00 p.m. at the location listed above.
For more information about Project OR, the competitor's bios, or to view past episodes of the reality-competition series, please visit the Project OR Web page.
Image courtesy SOAR Communications