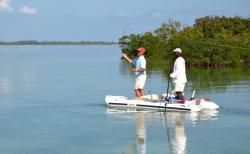 Richard Swan, founder and CEO of AIRBORN Inflatable Boats, announced today that AIRBORN will introduce a first of its kind inflatable flats boat at booth #4041 at the Miami International Boat Show, Feb. 14-18 at the Miami Beach Convention Center. The revolutionary Bare Bones flats boat is the first affordable, versatile and portable alternative for the flats fishing market.
"We felt the time had come to create an affordable alternative to the $40,000 fiberglass offerings that dominate the flats fishing market," said Swan. "At a price less than $3,000 the new Bare Bones inflatable will dramatically lower the cost of flats fishing."
One to two adult anglers can stand up and cast from the Bare Bones thanks to an innovative drop stitched floor. Drop Stitch construction is widely used in inflatable Stand Up Paddleboards (SUP) and greatly improves stability. The light weight design floats in five inches of water allowing access to previously inaccessible fishing spots.
Whether traveling by plane, car or yacht Bare Bones packs small and sets up quickly. It easily fits into the trunk of a medium sized car and can be checked as baggage on most airlines. Setup takes only ten minutes and you're ready to launch.
Pole it, Row it or Motor it
Bare Bones can be rowed, poled or propelled by a small outboard or electric motor. The incorporation of a river raft style rowing frame accommodates a common 48-quart ice chest. The cooler is used as a seat for rowing or an elevated platform for poling.
In addition, the frame offers two sets of oar locks strategically placed to allow the Bare Bones to be rowed facing either the stern or the bow. Facing the stern provides the greatest rowing power, while facing the bow, allows the rower to see the fish and move the boat with precision to the best casting position. "Flats boats have traditionally been poled on the flats, a skill that takes a lot of practice to acquire," said Swan. "The Bare Bones offers the option of rowing, a skill that most fisherman already possess."
Image courtesy Airborn Boats