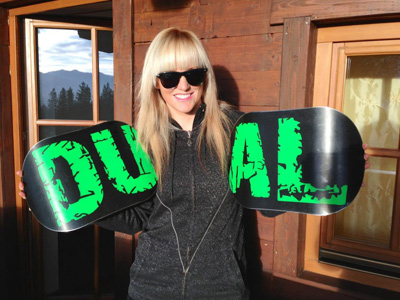 First we had skis and then we had snowboards; now comes the dual board revolution!
Stick Your Trick are proud to announce their association with Dual Snowboards and have become the European distributors for this brand-new product that hails from the slopes of California.
Founded in 2011, Dual Snowboards have quickly become a recognisable part of the snowsports scene in the United States and are now about to explode onto the European market. Riders travel sideways just like on a snowboard but have two separate boards, just like skis. Not only does this mean dual boards are perfect for skiers and snowboarders alike, it also means they are truly a new phenomenon in the snowsports world.
They're great fun to ride but already taken seriously by the snowsports industry…. Dual boards have already won a prestigious award at the 2012 ISPO, the world's largest snowsports trade show held in Munich every winter. They're also attracting lots of attention from skiers and snowboarders of all levels from recreational to pro.
Dual boards are fast becoming the way to maximise your fun on slopes, in Freestyle parks and on urban obstacles that all young riders aspire to conquer, while others have already evolved into performing bigger tricks like frontflips, backflips and 'rodeos', all on Dual boards.
What others are already saying about dual boards:
I found the transition from snowboard to duals pretty easy. It was strange having my two feet working independently but I can see how this freedom of movement is great for doing tricks. I enjoyed testing the duals and seeing what I could do on them.
Professional British snowboarder, Si Cudlip.
I love being in the snow and want to enjoy it every way possible! Snowboarding, skiing, snowmobiling, sledding, snowshoeing, split boarding and now dual boarding; it's Just another way to have fun in the mountains. Dual Snowboards are like a cross between snowboarding and skiing. You get the best of both worlds. You slide down the hill sideways like snowboarding but your feet are independent like skiing. It's a toss-up who catches on easier. I've seen both full time skiers and full time snowboarders catch on instantly.
USA Team Manager, Casey Timms.
Duals have opened up a whole new world of Riding and Tricks for me. We shot some urban stuff recently in the Alps and riding the duals in this environment was sick! We spent some days going to resorts and not even going up on the mountain, just shredding what we could find. We then hit the main slopes and it was so much fun playing about with them on a big mountain. I love the way in which I can take elements of snowboarding and skiing and transfer them to dual boards giving me a totally different way to enjoy the snow, everything opens up and there are just no rules. If I can give one bit of advice, just go out and give them a go. I was a skeptic at first but once I jumped on them for half an hour I was hooked!
Professional ski instructor and freestyle coach from Scotland, Team Rider, Jake Kirkwood.
I have to say a massive thank you to Stick Your Trick for my set of dual boards to play on this winter, I'm going to need some serious practice on these bad boys; looking forward to it!
British Ski Cross Champion, Pam Thorburn.
Core Facts
Stick Your Trick  is a brand "breaking boundaries & presenting new possibilities in progressive Action Sports".
Launched in 2012 in the Snow and Skate market, with an exciting competition called Tricksters and apparel ranges planned for future launch.
Stick Your Trick are European distributors for Dual Snowboards, California.
Dual Boards cost £225.00 per pair.
They are compatible with snowboard boots and bindings and you don't need to un-strap when getting on a ski lift.
They can fit in your backpack!
Dual Boards are suitable for all ages and all ability levels (anyone who can ski or snowboard can learn to use Dual Boards quickly, but if you can't ski or snowboard you can learn Dual Boarding too).
Images courtesy Ski-Press